10Y Treasury Hits A Stunning -4.25% In Repo As Yields Blow Out

10Y Treasury Hits A Stunning -4.25% In Repo As Yields Blow Out
by Tyler Durden, https://www.zerohedge.com/
Last night we first pointed out something shocking: as a result of a massive wave of shorting in Treasurys in the past three days, the 10Y hit a record -4% in repo, an extremely rare event and one which occurs only when there is a dramatic shortage of collateral as a result of overshorting (think of it as very hard to borrow condition for stocks). What was even more amazing is that the repo rate was below the fails charge, which at least in theory is the absolute minimum that a 10Y rate can hit in repo. Effectively, it meant that an investor in the repo market lending money so others could short the 10Y ends up paying rather than getting paid. Needless to say, this is a clear breach of one of the most fundamental relationships in the repo market, where lenders of cash always get paid – however little – in order to make a more liquid and efficient market.


–




This stunning issue quickly escalated and this morning Bloomberg followed up on this critical topic(top of post):




…


And with everyone suddenly obsessing with both the SLR and repo malfunction, that's why we said that during today's WSJ video conference event, Jerome Powell has to address i) the ongoing crunch in the repo market and ii) the fate of the SLR extension, as the two are closely tied – after all if the bond market is confident that there is capacity to soak up the trillions in reserves being released by the Fed as the Treasury drains the $1.5 trillion in cash held in the TGA account, many of the acute issues in the extremely illiquid Treasury market would go away.


–


Alas, for some bizarre reason Powell never got that question today… or perhaps he simply did not want to answer it and made it clear in advance. In any case, with everyone in the market expecting Powell to discuss the fate of the SLR, his failure to do so was one of the reasons why bond yields erupted shortly after 12pm, as uncertainty over the fate of the SLR – and by extension bank balance sheet capacity – has now grown exponentially (for those confused by all the SLR hoopla, please read this).


–




It's also why during the disappointing Powell address we said that we should brace for an even more dramatic move in repo:




–


read more.
Let's see if 10Y hits -8% in repo today

— zerohedge (@zerohedge) March 4, 2021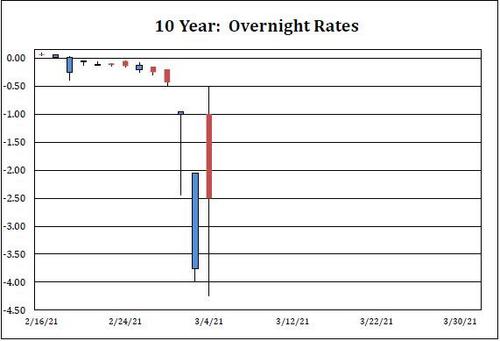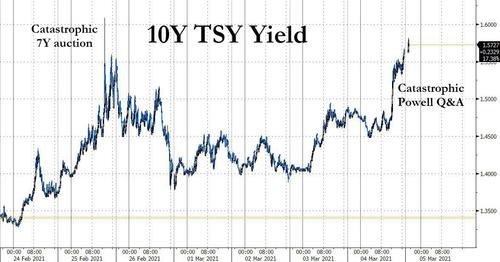 end