"The FedRes Was Suddenly Facing Multiple LTCMs": BIS Offers A Stunning Explanation Of What Really Happened On Repocalypse Day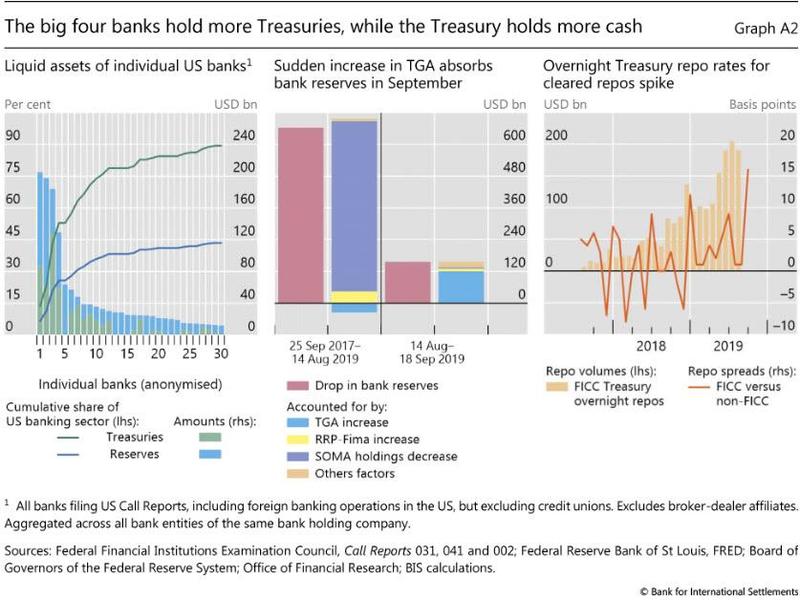 "The FedRes Was Suddenly Facing Multiple LTCMs": BIS Offers A Stunning Explanation Of What Really Happened On Repocalypse Day
by Tyler Durden, https://www.zerohedge.com/
About a month ago, we first laid out how the sequence of liquidity-shrinking events that started about a year ago, and which starred the largest US commercial bank, JPMorgan, ultimately culminated with the mid-September repo explosion. Specifically we showed how JPM's drain of liquidity via Money Markets and reserves parked at the Fed may have prompted the September repo crisis and subsequent launch of "Not QE" by the Fed in order to reduce its at risk capital and potentially lower its G-SIB charge – currently the highest of all major US banks.


–


Shortly thereafter, the FT was kind enough to provide confirmation that the biggest US bank had been quietly rotating out of cash, while repositioning its balance sheet in a major way, pushing more than $130bn of excess cash away from reserves in the process significantly tightening overall liquidity in the interbank market. We learned that the bulk of this money was allocated to long-dated bonds while cutting the amount of loans it holds, in what the FT dubbed was a "major shift in how the largest US bank by assets manages its enormous balance sheet."
–
The moves saw the bank's bond portfolio soar by 50%, and were prompted by capital rules that treated loans as riskier than bonds. And since JPM has been aggressively returning billions of dollars to shareholders in dividends and share buybacks each year, JPMorgan had far less room than most rivals to hold riskier assets, explaining its substantially higher G-SIB surcharge, which indicated that the Fed currently perceives JPM as the riskiest US bank for a variety of reasons.


…




In short, and as shown in the chart above, some of the world's biggest hedge funds are active in the repo market to boost their returns. The problem is what happens when repo rates get unhinged as happened on September 17: for the best example of how market players react when their underlying correlations go tilt, look no further than what happened to LTCM in 1998.




–


This also explains why the Fed panicked in response to the GC repo rate blowing out to 10% on Sept 17, and instantly implemented repos as well as rushed to launch QE 4: not only was Fed Chair Powell facing an LTCM like situation, but because the repo-funded arb was (ab)used by most multi-strat funds, the Federal Reserve was suddenly facing a constellation of multiple LTCM blow-ups that could have started an avalanche that would have resulted in trillions of assets being forcefully liquidated as a tsunami of margin calls hit the hedge funds world.
–
read more.
end