30 Year Yields Hit Highest Since 2007 One Day After CNBC's Santelli Suggests 10 Year Could Go To 13%
Could 10-year Treasury rates hit 13%?@RickSantelli charts the path to much, much higher yields, and warns that the Fed is running out of tricks pic.twitter.com/51DfL2R6HF

— CNBC's Fast Money (@CNBCFastMoney) October 2, 2023
30 Year Yields Hit Highest Since 2007 One Day After CNBC's Santelli Suggests 10 Year Could Go To 13%
by Tyler Durden, https://www.zerohedge.com/
This morning yields are once again rising, with the Treasury 30 year hitting highs of 4.856%, a level it hasn't touched since 2007.


–


The move sure seems to support a notion Rick Santelli laid out yesterday on Fast Money that bond vigilantes are back in full force. Santelli even predicted that 10 year yields could touch as high as 13%.


–


"In the grand scheme of things I think rates are going higher," Santelli says. "We have a lot of potential room to the upside," he says, drawing a chart of bond technicals. "Worst case scenario, where are Treasury rates going to go? 10 year I'd say in the next seven years you should be able to see 13.5% or 14%."
–


"If you want to know where inflation is taking markets and why, just look at government spending. Vigilantes have new horses and they are riding and I really do think that is the answer. We are spending too much, we are not learning to cut back."


–
"I think we're out of control as we approach a $2 trillion deficit and this is the market's way to get Washington's attention," Santelli adds.


–


read more.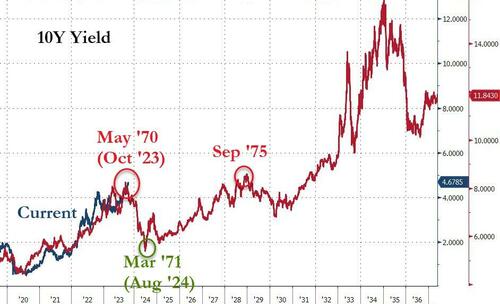 end