'We Feel Betrayed': Palestinians Fear Cost of Arab States' Deals with Israel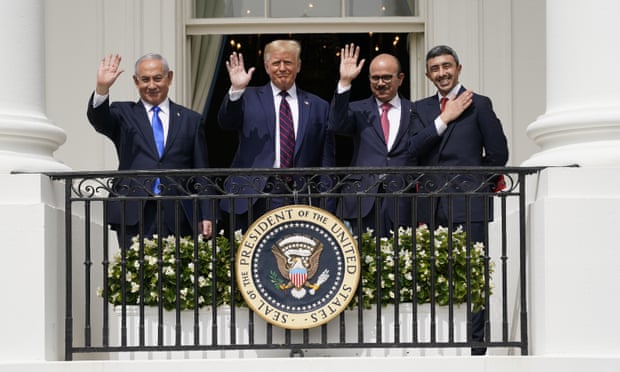 'We Feel Betrayed': Palestinians Fear Cost of Arab States' Deals with Israel
by Oliver Holmes Jerusalem correspondent, Hazem Balousha in Gaza, Michael Safi in Amman, and Bethan McKernan in Istanbul, https://www.theguardian.com/international
The accords signed in Washington are seen as diminishing the leverage for independence
–
Diplomatic breakthroughs between Israel and Gulf monarchies have revealed fissures in the relationship between Palestine and Arab governments – and raised questions over whether they can still be relied on to champion the Palestinian cause.


–


For years, Israel has vigorously pursued ties with the Arab world, focusing on powerful Gulf countries with whom it shares a common enemy in Iran and who crave its hi-tech security and espionage products. Those efforts bore fruit when, last week, Bahrain and the United Arab Emirates signed accords with Israel at a White House ceremony to establish an open business and diplomatic relationship.


–




While not truly a peace deal since the three countries have never been at war and have long had low-profile exchanges, the public ties smashed apart widespread isolation of Israel in the region – a decades-old policy the Palestinian leadership saw as vital leverage in its struggle for independence.




–


"We definitely feel betrayed," said senior Palestinian politician Saeb Erekat, condemning the deals as a "tremendous encouragement for the Israeli government to continue their occupation". Under a 2002 Arab Peace Initiative, Arab nations declared Israel would only receive "normal" ties in return for a statehood deal with the Palestinians and an end to the occupation. That longstanding policy had now been undercut, warned the Palestinian ambassador to the UK.


–


"Some argue that the 'old ways' have failed, that it is time to try something new. But as a matter of basic logic, it is clear that Israel will not end its occupation out of the kindness of its heart – after all, it has had plenty of opportunities," Husam Zomlot wrote in the left-leaning Israeli newspaper Haaretz after the deals were signed.


–


read more.
Modern Ashkenazi Khazars (90+% of modern Jewry) are NOT the Jews of the Bible! Ashkenaz is not from the tribe of Shem ie. not semitic! They cannot be the descendents of Jacob/Israel who are from Shem!
–
Genesis 10:1-3 (New King James Version)
Nations Descended from Noah
1 Now this is the genealogy of the sons of Noah: Shem, Ham, and Japheth. And sons were born to them after the flood. 2 The sons of Japheth were Gomer, Magog, Madai, Javan, Tubal, Meshech, and Tiras. 3 The sons of Gomer were Ashkenaz, Riphath,[a] and Togarmah.

We are trained to not see Palestinians as humans – former IDF soldier!
Sir Gerald Kaufmann (UK Jewish MP):
"My grandmother was ill in bed when the Nazis came to her home town. A German soldier shot her dead in her bed. "My grandmother did not die to provide cover for Israeli soldiers murdering Palestinian grandmothers in Gaza. "
–
"The present Israeli government ruthlessly and cynically exploits the continuing guilt among gentiles over the slaughter of Jews in the Holocaust as justification for their murder of Palestinians."
–

He said the claim that many of the Palestinian victims were militants

"was the reply of the Nazi" and added: "I suppose the Jews fighting for their lives in the Warsaw ghetto could have been dismissed as militants."
'Israel was born out of Jewish Terrorism! …. They are not simply war criminals. They are fools!'
" … it turns out the creation of Israel had not, after all, been a haphazard fight in which the Arabs fled their homes at the directives of their own leaders, but it had been an unprovoked, systematic campaign of ethnic cleansing by the Jewish militia involving massacres, terrorism and the wholesale looting of an entire nation." –

from 4:22 onwards


–
"In 2001, Dr. Ariella Oppenheim, of Hebrew University, a biologist, published the first extensive study of DNA and the origin of the Jews.

Her research found that virtually all the Jews came from Khazar blood. Not only that but Oppenheim discovered that the Palestinians—the very people whom the Jews had been persecuting and ejecting from Israel's land since 1948—had more Israelite blood than did the Jews.

In sum, the vast majority of the Jews were not Jews; some of the Palestinians were. Some of the Palestinians even had a DNA chromosome which established that they were "Cohens"—workers at the ancient Temple and synagogues of the Jews."

– Quote
"Shalom (Ex ShinBet chief) shocked viewers. He called Israeli occupation no different from Nazi occupied Europe." – Quote
end