Gold Price Smash in Paper – But Physical Demand on Fire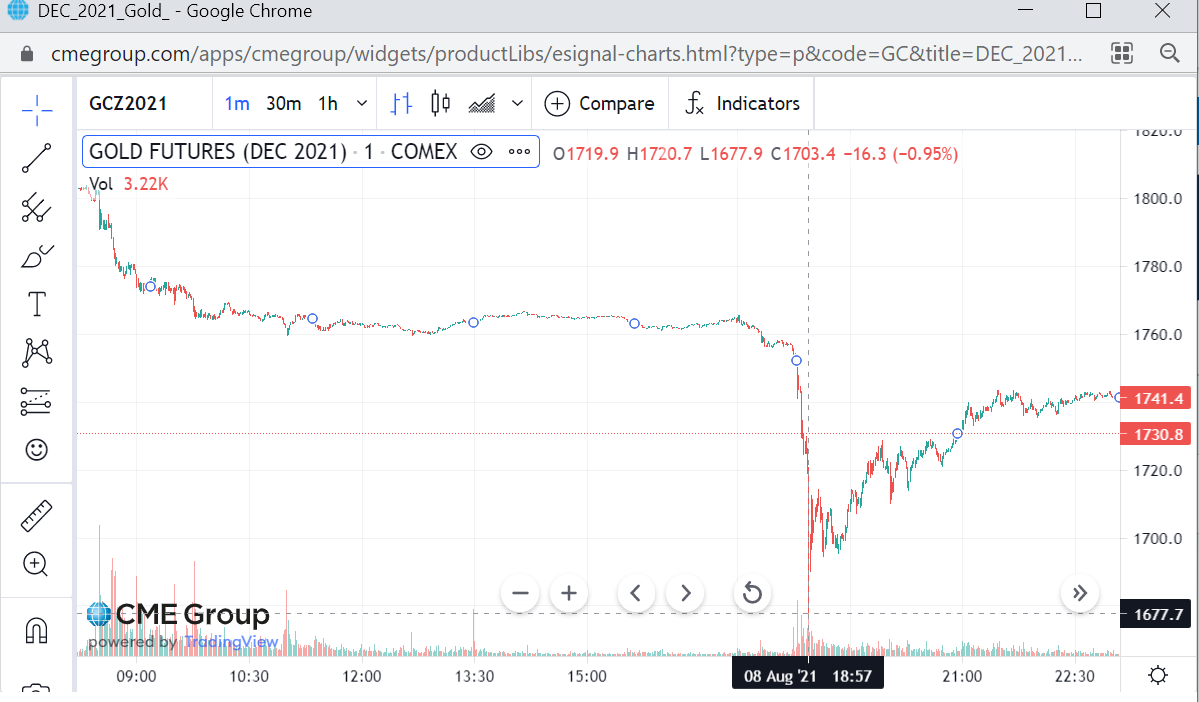 Gold Price Smash in Paper – But Physical Demand on Fire
by Ronan Manly, https://www.bullionstar.com/
On Sunday evening 8 August at 6:00pm New York time, as the trading of gold futures contracts commenced for the week and the COMEX GCZ1 December 100 oz gold futures contract opened at $1765 per ounce, there was nothing in the market or in wider macro news to suggest that the gold price was about to witness a sudden drop of $87 or 5% to a low of $1677.9, or that 90% of that drop would be in a 12 minute period between 6:45 pm and 6:57 pm when the gold price fell by 4.93% on huge contract trading volume.


–




From a macro perspective, nothing had changed over the weekend, and all news that could arguably have affected the gold price, such as market unease about the US Fed moving to taper QE and asset purchases, was already reflected in the price.




–




On the previous Friday, August 5, the gold price on COMEX had wrapped up the afternoon at $1763.5 after meandering tightly in the $1760 – $1765 range for the previous 7 hours. Earlier on Friday morning had seen 'higher than expected' US non-farm payroll data for July, with the narrative wheeled out to those naïve enough to believe it that this could trigger 'early' Fed tapering and higher interest rates. Spoiler – The Fed can't taper.




–




Despite this fact, the US jobs data was put into the trading desk mix as the US dollar rallied and US bond yields spiked higher, and the COMEX gold price fell sharply Friday morning from $1801.8 at 8:30 am, to $1764.6 by 10:00 am.




–




Before looking at the Sunday evening orchestrated plunge, the key point to remember is that the Friday morning data and how it was digested, was already embodied and reflected in the gold price by 10am on 5 August, and there was no volatile price action in the COMEX gold price over the next 7 hours up to 5pm Friday afternoon New York time (when trading halts for the weekend).




–


read more.
end