One Bank Turn Apocalyptic: "The Fed Will Inevitably Move To YCC" As "Rates Are No Longer Anchored"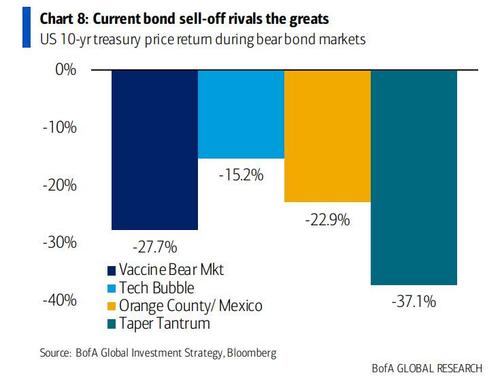 One Bank Turn Apocalyptic: "The Fed Will Inevitably Move To YCC" As "Rates Are No Longer Anchored"
by Tyler Durden, https://www.zerohedge.com/


Another week, another massive inflow into equity funds… just as the Nasdaq was about to get hammered with a painful 10% correction.




–




According to BofA Chief Investment Strategist Michael Hartnett's latest Flow Show note, $22.2Bn in new money flowed into equities last week, following the previous week's massive $46.2Bn inflow which was the 3rd biggest on record, bringing the total 16 week inflow to $436BN, a stunning outlier as shown in the chart below.




–


Addressing this massive tide of money, Wayne Wicker, chief investment officer at Vantagepoint Investment Advisers said that "Investors are looking at the market today and saying, 'Wow, this is going to come back faster than I thought. I need to position myself accordingly. There's a fear of missing out, of being under-invested."


–


"We've seen for many reasons that people have been trained to buy the dips," Kim Forrest, chief investment officer of Bokeh Capital Partners, told Bloomberg. "Just about every economist out there thinks the U.S. GDP is going to be 6% or above and that says growth. And yes, there's some specter of inflation that may bubble up," but, she said, "people are not afraid of inflation because we haven't had that horrible really life-changing inflation."


–




"We would admit to still seeing some pockets of speculative excess out there," said Leo Grohowski, chief investment officer at BNY Mellon Wealth Management. "When we reach levels of maximum bullishness, that is usually a better time to pare back," he added. "Market pullbacks like we've had this week serve as wake-up calls for investors that buy first and ask questions later."




–


And yet, it's very likely that next week this massive inflow won't be repeated. In fact, it's far more likely that next week we will see a massive outflow because as Hartnett notes, "the price is now right":  he points to the >100bps rise in 10Y TSY yields since Aug 4th low – as a reminder the plunge in 10Y prices since last March has been the 2nd worst bear market for bond in recent history… 


–


read more.
end