Flashback August 2020: Portland Rioters Bring Out Guillotines And Burn American Flags
Portland Rioters Bring Out Guillotines And Burn American Flags
by Ethan Huff, https://www.naturalnews.com/Index.html , 25 August 2020
(Natural News) Over the weekend, demonstrators in Portland took their "protests" to a whole new level by rolling out a full-sized guillotine and slicing off the head of a giant stuffed animal, followed by the slashing and burning of several American flags.


–




Video footage posted to Twitter by independent journalist Andy Ngô shows an almost all-white crowd of Antifa and Black Lives Matter (BLM) "protesters" standing in the middle of a thoroughfare chanting, "Who's lives matter? Black lives matter," while dousing two American flags in lighter fluid atop a decapitated stuffed bear.




–


"Someone rolled a mock guillotine with a stuffed bear into the street (photo)," a press statement issued by the Portland Police Bureau (PPB) reads – the headline photo to this story is the one referenced in parenthesis.


–




"The bear and multiple U.S. flags were burned. Paint balloons were launched at officers, as well as green lasers."




–




Earlier that same day, multiple violent clashes occurred between Antifa and Proud Boys, with pepper spraying being exchanged between the two groups, and no law enforcement anywhere in sight.




–




The mayhem lasted all day and well into the night before Antifa and BLM terrorists rolled out the guillotine and produced an effigy depicting what they have planned for those who resist their agenda.




–




Following many hours of assaulting bystanders with not only pepper spray but also rocks, eggs, urine and even human feces, which they smeared throughout the streets of Portland, the left-wing "protesters" shifted their ire directly onto the police.




–




"At 11:45pm, officers began to push the crowd to the west," one report explains. "Rocks, bottles, and other hard objects were thrown at officers. One lieutenant was struck in back of head with a glass bottle. His helmet prevented him from being injured."




–


read more.
Antifa Riots on New Year's Chanting 'We Got The Guillotine'!
by The wildest story of 2020 is still that the most widespread and destructive riots in at least 50 years occurred and it basically got covered up by the media. While most of you were locked down in your footie pajamas enjoying New Year's Eve from your living room, Antifa Portland was rocking out riots, attacking police, destroying businesses, and starting fires:

Antifa black bloc dance in downtown Portland as their comrades throw explosives and start fires outside the courthouse. #PortlandRiots pic.twitter.com/uJ9jRRqVlw

— Andy Ngô (@MrAndyNgo) January 1, 2021
Antifa started multiple fires at their riot in downtown Portland after smashing up businesses. #PortlandRiots pic.twitter.com/TH7lryN9f2

— Andy Ngô (@MrAndyNgo) January 1, 2021
In downtown Portland outside the Hatfield federal courthouse, antifa rioted for New Years by launching mortar fireworks and projectiles at police. #PortlandRiots #antifa pic.twitter.com/c66b4WJdjL

— Andy Ngô (@MrAndyNgo) January 1, 2021
Chaos in Portland as antifa started fires and smashed up businesses one by one in downtown. Watch with audio. #PortlandRiots pic.twitter.com/gMavCqakax

— Andy Ngô (@MrAndyNgo) January 1, 2021
Antifa in Portland started multiple fires and tried to break into the federal courthouse again to burn it down. #PortlandRiots pic.twitter.com/KV5Wp1JbK7

— Andy Ngô (@MrAndyNgo) January 1, 2021
#PortlandRiots: Antifa brought a guillotine and toy bear to their violent protest. The teddy bear represents @tedwheeler, who they've threaten to hurt or kill because he's the police commissioner & they blame him for not abolishing police. pic.twitter.com/jF9Fn7DCBx

— Andy Ngô (@MrAndyNgo) August 23, 2020
Protesters cheer as they burn American flags at the guillotine outside the police bureau #PortlandProtest #Portland pic.twitter.com/R9I6dobNiv

— Brendan Gutenschwager (@BGOnTheScene) August 23, 2020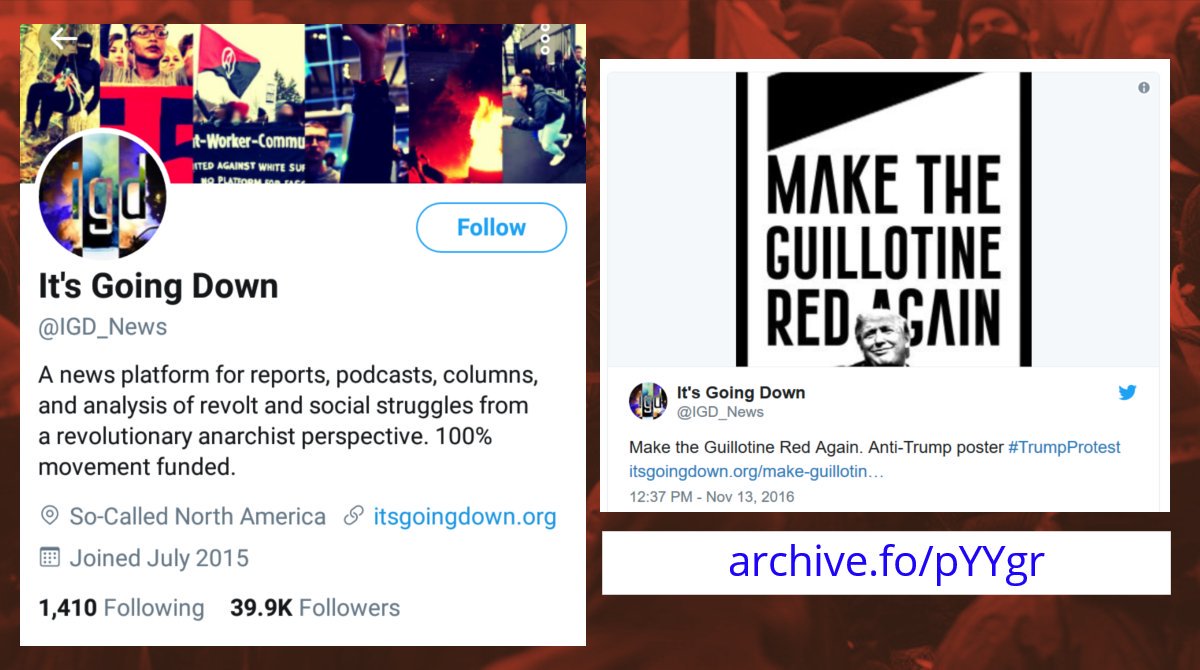 end