CIA Releases "Black Vault" UFO Files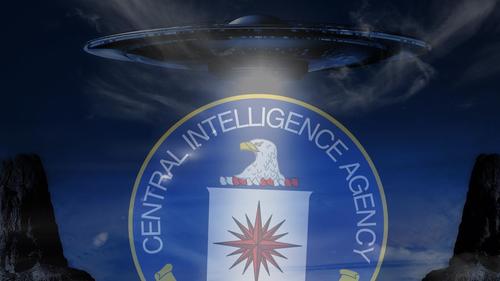 CIA Releases "Black Vault" UFO Files
by Tyler Durden, https://www.zerohedge.com/


The CIA has released a large cache of files involving unidentified flying objects (UFOs), also known as unidentified aerial phenomena (UAPs) following a Freedom of Information Act (FOIA) request by podcaster John Greenwald Jr.




–


Greenwald operates a website called the "Black Vault," where he has made the files available in searchable PDF format. The release comes less than six months before the government's official UFO report which was inserted into the COVID-19 omnibus bill, and includes reports that date back to the 1980s, according to Greenwald – who scanned everything by hand in order to create searchable PDFs.


–


"Around 20 years ago, I had fought for years to get additional UFO records released from the CIA," he told Motherboard in an email. "It was like pulling teeth! I went around and around with them to try and do so, finally achieving it. I received a large box, of a couple thousand pages, and I had to scan them in one page at a time."
–


According to a blog announcing the archive, the CIA created a CD-ROM containing previously released records as well as those the Black Vault was attempting to unseal. To ensure the Black Vault has as complete a record of CIA documents as possible available, it purchased this CD-ROM in mid-2020.


–
The Black Vault blog notes that the CIA claims that this represents all its documents on the file, but there may be no way to verify that and other documents may be out there. -Vice
–


"Researchers and curious minds alike prefer simplicity and accessibility when they look at data dumps such as these," said Greenwald, adding: "

The CIA has made it INCREDIBLY difficult to use their records in a reasonable manner. They offer a format that is very outdated (multi page .tif) and offer text file outputs, largely unusable, that I think they intend to have people use as a "search" tool.  In my opinion, this outdated format makes it very difficult for people to see the documents, and use them, for any research purpose."
–
read more.
2/ For the past nearly two years, I have an open "Mandatory Declassification Review" request to HOPEFULLY get some of these redactions lifted, so we can see what was hand delivered, and what his advice may be. (Getting names is likely a long shot.)

— 🇺🇸 T̷h̷e̷ ̷B̷l̷a̷c̷k̷ ̷V̷a̷u̷l̷t̷ 🇺🇸 (@blackvaultcom) January 8, 2021
SQ;CHECK OUT PARAGRAPH 3,4 AND 5. SQ;MY SOURCES CONFIRM WITH SECRET VATICAN MEETINGS TO PREPARE ALL CARDINALS AND HIGH RANKING VATICAN OFFICIALS TO ANNOUNCE ALIEN ARRIVAL. 
Remarks by Steve Quayle, https://www.stevequayle.com/
–
COVID-19 Bill Started a 180-Day Countdown for UFO Disclosures
by Steven Greenstreet 

and

 Steven Nelson, December 29, 2020, https://nypost.com/
President Trump's signature Sunday on the $2.3 trillion COVID-19 relief and government funding bill started a 180-day countdown for the Pentagon and spy agencies to say what they know about UFOs.


–


The provision received very little attention, in part because it wasn't included in the text of the 5,593-page legislation, but as a "committee comment" attached to the annual intelligence authorization act, which was rolled into the massive bill.


–




The Senate Intelligence Committee, chaired by Sen. Marco Rubio (R-Fla.), said in the comment that it "directs the [director of national intelligence], in consultation with the Secretary of Defense and the heads of such other agencies … to submit a report within 180 days of the date of enactment of the Act, to the congressional intelligence and armed services committees on unidentified aerial phenomena."




–




The report must address "observed airborne objects that have not been identified" and should include a "detailed analysis of unidentified phenomena data collected by: a. geospatial intelligence; b. signals intelligence; c. human intelligence; and d. measurement and signals intelligence," the committee said.




–




The report must also contain "[a] detailed analysis of data of the FBI, which was derived from investigations of intrusions of unidentified aerial phenomena data over restricted United States airspace … and an assessment of whether this unidentified aerial phenomena activity may be attributed to one or more foreign adversaries."




–


Former Pentagon and legislative officials confirmed Tuesday to the publication The Debrief that the package begins the clock on UFO disclosures.


–




Defense Department spokesperson Sue Gough told The Post: "We are aware that the Senate Select Committee on Intelligence committee report on the Intelligence Authorization Act for fiscal 2021 included a requirement for the Director of National Intelligence, in consultation with the Secretary of Defense, to submit a report on unidentified aerial phenomena (UAPs) within 180 days of enactment."




–


Spokespeople for Rubio, who pushed for more UFO transparency, did not respond to The Post's multiple requests for comment. The push for more information follows the Pentagon's April publication of three Navy videos showing unidentified objects.


–




Chris Mellon, former deputy assistant secretary of defense for intelligence, told The Debrief that "the newly enacted Intelligence Authorization Act incorporates the Senate Intelligence Committee's report language calling for an unclassified, all-source report on the UAP phenomenon. This was accomplished in the Joint Explanatory Statement accompanying the bill."




–


read more.
Sheeple:

naive, gullible, easily deceived, useful idiots complicit in their own destruction and the destruction of others. People with an amazing ability to accept any amount of BULLSHIT. Last to know/understand what is going on. First to fall.
The entire "UFO-Aliens" meme pushed by the world is a psychological warfare against the sheeple. These beings are NOT Aliens but are fallen angels, the Nephilim, fallen spiritual beings. The sheeple are being brainwashed into accepting a coming Satanic Alien Invasion HOAX! This is, IMO, the endtimes strong delusion.
–


2 Thessalonians 2:9-12 (New King James Version)


9 The coming of the lawless one is according to the working of Satan, with all power, signs, and lying wonders, 10 and with all unrighteous deception

among those who perish, because they did not receive the love of the truth, that they might be saved. 11 And for this reason

God will send them strong delusion, that they should believe the lie,

12 that they all may be condemned who did not believe the truth but had pleasure in unrighteousness.
end