Bailout #3: Chinese Bank With $200 Billion In Assets Is Nationalized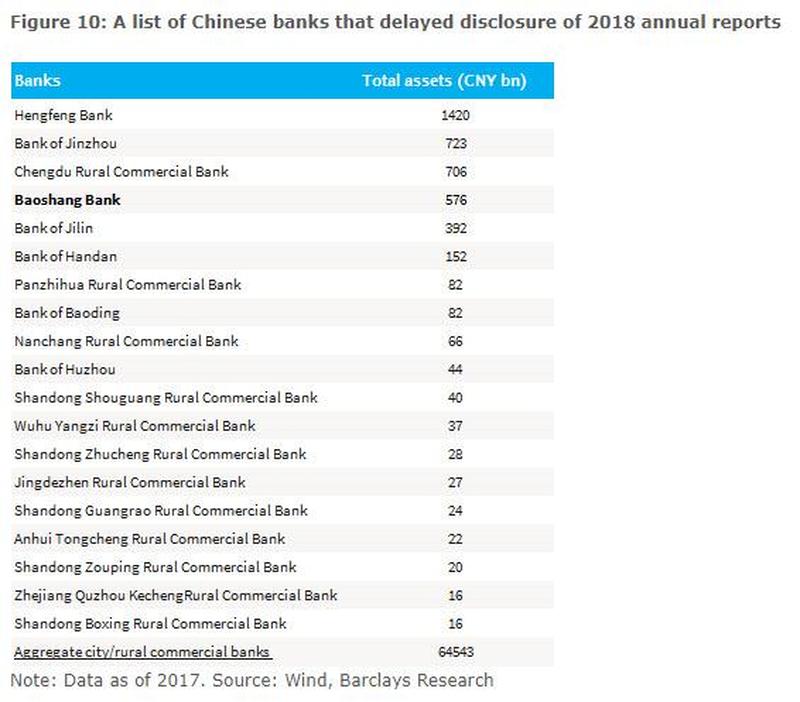 Bailout #3: Chinese Bank With $200 Billion In Assets Is Nationalized
by Tyler Durden, https://www.zerohedge.com/
Step aside Baoshang Bank and Bank of Jinzhou, it's time for Chinese bank bailout #3.
Last month, when reporting on the imminent failure of yet another Chinese bank in the inglorious aftermath of Baoshang Bank's late May state takeover, we dusted off a list of deeply troubled Chinese financial institutions that had delayed their 2018 annual reports…


…




… and noted that the #2 bank on this list, Bank of Jinzhou recently met financial institutions in its home Liaoning province to discuss measures to deal with liquidity problems, and in a parallel bailout to that of Baoshang, the bank was in talks to "introduce strategic investors" after a report that China's financial regulators are seeking to resolve its liquidity problems sent its dollar-denominated debt plunging.




–


Just a few days later, that's precisely what happened, when in late July, Industrial and Commercial Bank of China (ICBC), the country's largest lender by assets, China Cinda Asset Management and China Great Wall Asset Management, two of China's four largest distressed debt managers, said on Sunday they would take stakes in Bank of Jinzhou.


–




To be sure, there was some token debate over the semantics: was this bailout a nationalization or a state-bank funded takeover:




–




"For Baoshang Bank, the government took a state takeover, while for Bank of Jinzhou, the government introduced some state-owned strategic investors," said Dai Zhifeng, analyst with Zhongtai Securities Co; in reality both were government rescues, only in the latest case Beijing used state-owned bank intermediaries.




–




"The latter approach is more market-oriented and showcased the determination of regulators to resolve problematic banks, while injecting confidence into the market," Dai said, although when stripped of all the pig lipstick, what just happened in China is that another major bank, one with $100 billion in assets, just collapsed and received a government-backed rescue.




–




The bigger problem, and the reason why Chinese bank stocks have tumbled ever since the Baoshang Bank bailout, is that investors (and depositors) were worried that now that Beijing has started down the path of bank bailouts, it was unclear where it would stop.




–


And so, fast forward to this week when overnight, the SCMP reported that China's sovereign wealth fund has taken over Heng Feng Bank – the bank at the very top of the list shown above, one with roughly $200 billion in assets –  a troubled lender linked to fugitive financier Xiao Jianhua, in the third case in as many months of the state exerting its grip over wayward financial institutions.
–
read more.
end