Chinese Bank With $100 Billion In Assets Is About To Collapse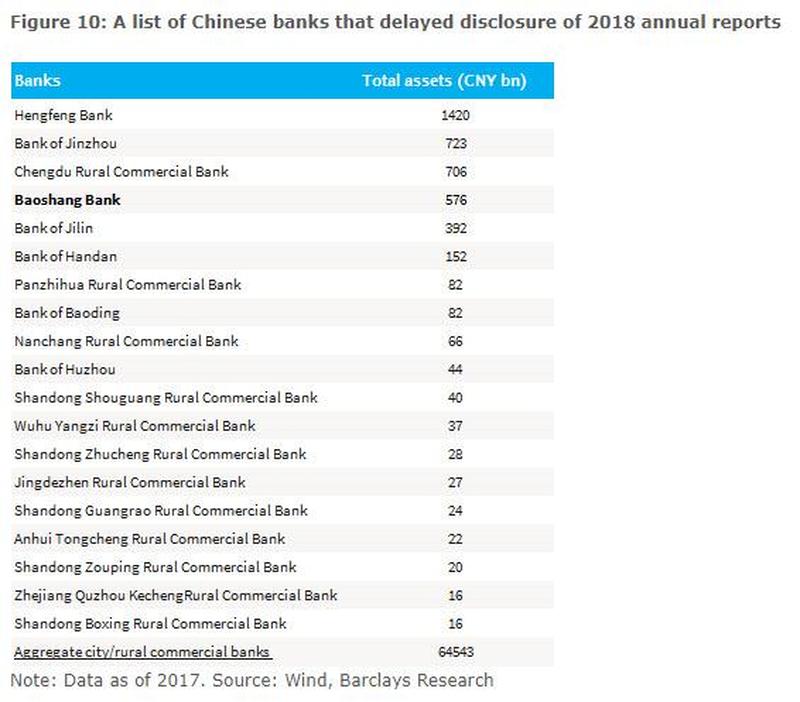 Chinese Bank With $100 Billion In Assets Is About To Collapse
by Tyler Durden, https://www.zerohedge.com/


While the western world (and much of the eastern) has been preoccupied with predicting the consequences of Trump's accelerating global trade/tech war and whether the Fed will launch QE before or after it sends rates back to zero, Beijing has quietly had its hands full with avoiding a bank run in the aftermath of Baoshang Bank's failure and keeping the interbank market – which has been on the verge of freezing – alive.




–




Unfortunately for the PBOC, Beijing was racing against time to prevent a widespread panic after it opened the Pandora's box when it seized Baoshang Bank, the first official bank failure in an odd replay of what happened with Bear Stearns back in 2008, when JPMorgan was gifted the historic bank for pennies on the dollar.




–




And with domino #1 down, the question turned to who is next, and could it be China's Lehman.




–


As a reminder, back in May, shortly after the shocking failure of China's Baoshang Bank (BSB), and its subsequent seizure by the government – the first takeover of a commercial bank since the Hainan Development Bank 20 years ago – the PBOC panicked and injected a whopping 250 billion yuan via an open-market operation, the largest since January. Alas, as we said at the time, it was too little to late, and with the interbank market roiling, with Negotiable Certificates of Deposit (NCD) and repo rates soaring (in some occult cases as high as 1000%) we said that it's just a matter of time before another major Chinese bank collapses.


–


And, in order to present the list of the most likely candidates, will picked those names that – just like Baoshang – had delayed publishing their latest annual reports, the biggest red flag suggesting an upcoming solvency "event." The list is above (top of post). We were right, because not even two months later, the second biggest bank on the list, Bank of Jinzhou has crawled in Baoshang's foosteps and is about to be seized by the government.


–


read more.
end