Joe Biden Is Not Incompetent: He Is Doing Exactly What He Was Hired To Do — Collapse America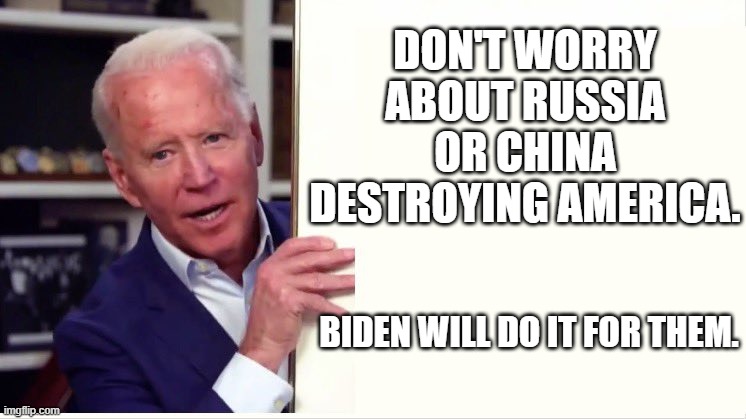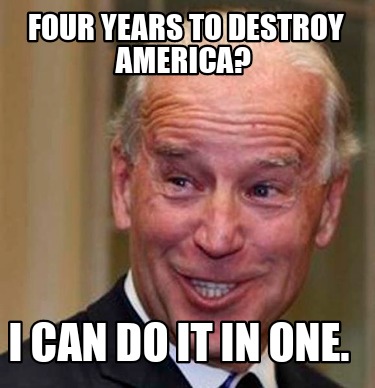 Joe Biden Is Not Incompetent: He Is Doing Exactly What He Was Hired To Do — Collapse America
by https://leohohmann.com/
Joe Biden is a man in obvious cognitive decline. But he is not crazy, stupid or incompetent. Biden knows who he is and for whom he works. He is a stooge for the global Great Reset and he is doing his job exactly as it was assigned to him by his superiors.


–




His job, in fact the whole purpose of his dubious presidency, is to precipitate the following:




–




·        Collapse the supply chain, the dollar and ultimately the American economy.




·        Collapse the American military and embolden enemy forces.




·        Collapse the American healthcare system.




·        Collapse the American border.




–




Biden is well on his way to accomplishing all four of the tasks laid out for him by his handlers, who themselves are puppets working for the goals and values of the power elites at the World Economic Forum, global corporations, the United Nations and other globalist entities.




–


It is thus with supreme confidence that a top Biden aide said that his boss would "run over" any GOP governors who tried to resist his sweeping vaccine mandates. These globalists actually hate the American people and want to see them enslaved under a digital surveillance state similar to that already in effect in China. We laid out, in a recent blockbuster investigative article, exactly how that is going to happen starting with digital vaccine passports, a technocratic ploy being overseen by the United Nations World Health Organization in cooperation with the World Economic Forum [WEF].


–


The WEF's esteemed goal for the world, as it announced just over a year ago, is to reset the global economy, social structure and really all of Western civilization. They call it the Great Reset, but it's really just a rebranding of the old New World Order.


–


I encourage everyone not familiar with the rhetoric of the Great Reset to go to the WEF's website and also to read the books, articles and speeches of WEF founder Klaus Schwab, Prince Charles, Pope Francis and the top executives of the International Monetary Fund and World Bank. They all sing the praises of the Great Reset.


–


The slogan of the Great Reset is "Build Back Better," a phrase that Biden, Trudeau, Pelosi, Schumer and the other stooges of the globalist revolution now sweeping the world are fond of repeating like mindless mockingbirds. Curiously, no member of the mainstream press ever asks these stooges where their trite little made-for-TV slogan came from or exactly what it entails.


–


The first and most obvious question should be: "Mr. President, before you can rebuild something don't you first have to tear it down?"


–




What better way to go about collapsing the system than to mandate controversial injections that you know will be rejected by at least 25 percent of Americans. You know, the critical-thinkers who have actually researched the true efficacy and safety by seeking out honest, uncompromised doctors and scientists, thousands of whom agree this is not a vaccine but an experimental gene therapy.




–


read more.
end