'A Sanctions-Evasion War-Chest Ahead Of Taiwan Invasion' – Why Is China Hoarding Gold Again?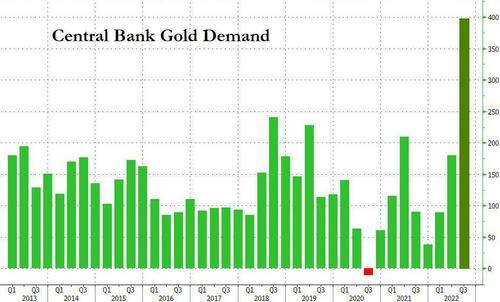 'A Sanctions-Evasion War-Chest Ahead Of Taiwan Invasion' – Why Is China Hoarding Gold Again?


by Tyler Durden, https://www.zerohedge.com/


A month ago, we confirmed the identity of the "mystery" gold-buyer who had been suddenly hording the precious metal in recent months.


–


Specifically, we identified China as the hidden whale buying the barbarous relic when all around them are decrying it's inflation-hedging help, remarking at the time that for China, the need to find an alternative to dollars, which dominate its reserves, has rarely been greater.
–
Tensions with the US have been high since measures taken against its semiconductor firms, while Russia's invasion of Ukraine has demonstrated Washington's willingness to sanction central bank reserves. In other words, now that the US has shown it is ready to weaponize the dollar, any USD reserves held by the Fed, Western banks or any other counterparty, could and will be promptly confiscated if China does something unpalatable… like invading Taiwan. Which is why China is desperately seeking money without counterparty risk. Here it has just two choices: crypto or gold. For now, it has picked the latter.


–




Today, commodities strategists at TD Securities agree that the gold whale could be the Chinese official sector.


–
"The rally in gold prices over the past two months has defied analyst expectations for continued weakness, including TD Securities. Yet, we see little evidence that the rise in gold prices is associated with a changing macro narrative. Given the bearish macro backdrop, speculative interest in gold has remained exceptionally lackluster as the world barrels towards a recession," senior commodity strategist Daniel Ghali writes.
–
"Armed with a flows-based approach, we present strong evidence that behemoth Chinese and official sector purchases may have single-handedly catalyzed a $150/oz mispricing in gold markets," he adds.
–
read more.
end