Credit Suisse and the Fed's Plunge Protection Team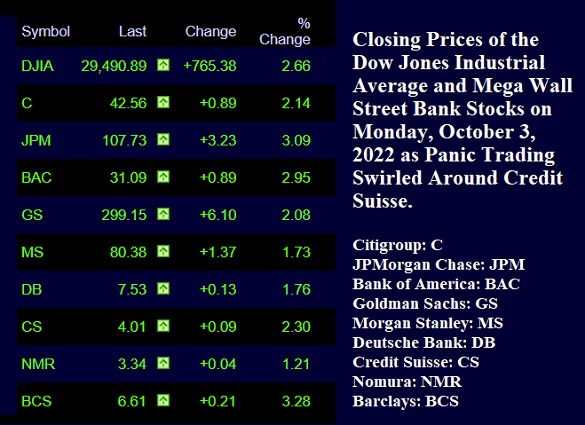 Credit Suisse and the Fed's Plunge Protection Team
by Pam Martens and Russ Martens: October 4, 2022, http://wallstreetonparade.com/
At 6:53 a.m. this morning (ET), Dow futures were up 454 points. That followed the Dow Jones Industrial Average gaining 765 points yesterday. No one who has been a trader on Wall Street or a stock broker for multiple decades believes this rally is real. Wall Street veterans are thinking that either the Fed's plunge protection team or the Treasury's plunge protection team is behind the rally. Equally unbelievable, as the chart above indicates, is the fact that the major mega banks on Wall Street closed in the green yesterday. Many of these are counterparties to Credit Suisse derivatives and thus subject to the potential for contagion.


–


Until everyone who works on Wall Street is 25 years old and too young to remember what happened in 2008 after Citigroup began to quake, Wall Street traders are not going to believe that the Dow can stage a legitimate rally or even a short squeeze rally when a Global Systemically Important Bank (GSIB) such as Credit Suisse is blowing out its Credit Default Swaps (CDS).


–




The 5-year CDS of Credit Suisse has spiked from a reading of 55 basis points in January to an historic intraday high of more than 350 basis points on Monday. The price of a Credit Default Swap reflects the cost of insuring oneself against a debt default by the bank. Who would be stampeding into the CDS of Credit Suisse and driving up the cost of protection? The mega banks on Wall Street that are counterparties to its derivative trades come to mind, as well as hedge fund speculators.




–




Credit Suisse is Switzerland's second largest bank, after UBS. It is also a major trading house on Wall Street and a derivatives counterparty to other global banks. Its  shares tumbled to an intraday historic low on Monday before closing up in New York, but still at the single-digit price of $4.01. The shares of Credit Suisse have lost 58 percent of their value year-to-date, based on yesterday's closing price – far worse than its peer global banks.




–


read more.
end