Yentervention! Japan, BOJ Enter FX Market With "Bold Action", Send USDJPY Tumbling
USDJPY 145.25. BOJ better step in or it's about to get real

— zerohedge (@zerohedge) September 22, 2022
Yentervention! Japan, BOJ Enter FX Market With "Bold Action", Send USDJPY Tumbling
by Tyler Durden, https://www.zerohedge.com/
With the yen plummeting earlier today, after the BOJ decided to keep its YCC and abandon the yen to its collapsing fate, we said that the BOJ better intervene soon or all hell would break loose: (top of post)


–


Two hours later, the BOJ has done just that, and after warning earlier in the session of "stealth intervention", it decided to finally put money where its endlessly big mouth is in an intervention that is anything but stealth:


–

GOVT, BOJ STEPS INTO MARKET TO BUY YEN FOR DOLLARS, CONDUCTS FIRST FX INTERVENTION SINCE JUNE 1998

JAPAN'S KANDA: HAVE INTERVENED IN FX MARKET

In kneejerk response, the Yen predictably soared, jumping as much as 1.1% as the USDJPY collapsed by a whopping 300 pips from 145.50 to 142.50!
–
read more.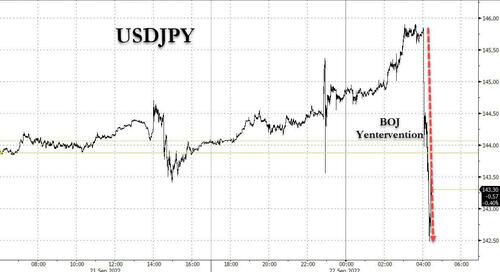 end