Did Europe's Latest (& Little Noticed) Anti-Russia Move Just Push The World Closer To WW3?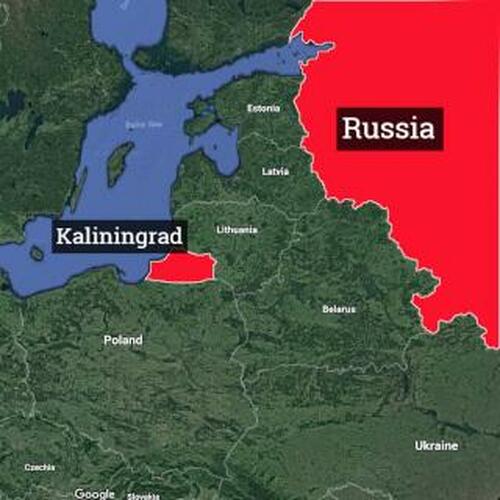 Did Europe's Latest (& Little Noticed) Anti-Russia Move Just Push The World Closer To WW3?
by Tyler Durden, https://www.zerohedge.com/
Quite possibly the biggest Russia-West provocation of the entire four-month long war in Ukraine has occurred this weekend, but few in the media establishment seem to be taking notice of the singular event which has the potential to quickly spiral toward a WW3 scenario.


–


Baltic EU/NATO member Lithuania has implemented a ban on all rail transit goods going to Russia's far-western exclave of Kaliningrad, after transport authorities initially announced the provocative measure on Friday. "The EU sanctions list notably includes coal, metals, construction materials and advanced technology, and Alikhanov said the ban would cover around 50% of the items that Kaliningrad imports," Reuters wrote.


–


This has given way to fears of panic buying breaking out in Kaliningrad Oblast, which is Russian sovereign territory on the Baltic Sea, but which is sandwiched between Lithuania and Poland, and is thus reliant on overland shipping for passage via its EU neighbors.


–


Anton Alikhanov, the governor of the Russian oblast which has a total population of some one million people (with Kaliningrad city including almost 450,000 – and 800,000 total if outlying suburbs are counted) is urging calm:
–
Urging citizens not to resort to panic buying, Alikhanov said two vessels were already ferrying goods between Kaliningrad and Saint Petersburg, and seven more would be in service by the end of the year. "Our ferries will handle all the cargo", he said on Saturday.
–
Russian officials and media have long warned against what they dubbed Western aims to "blockade" Kaliningrad. Crucially, the EU enforcement measure being implemented from Vilnius marks a complete break in a three decade long treaty that's been in effect…


–


read more.
RUSSIAN-LITHUANIAN TREATY REGARDING KALININGRAD, 1993https://t.co/4LatUKPN6J pic.twitter.com/ahwCYWMt8c

— The_Real_Fly (@The_Real_Fly) June 19, 2022
One escalation step closer to WW3 today. The West by de facto putting Kaliningrad under seige is goading Russia to roll into the Baltics. https://t.co/Q6wIGz6xFb

— Mark Sleboda (@MarkSleboda1) June 18, 2022
The blockade of the Kaliningrad🇷🇺region may become a reason for the outbreak of war B/T Russia & NATO

🇪🇺has published a PR on the fifth package of sanctions against🇷🇺
The document,in particular, prohibits transit of goods by 🇷🇺&🇧🇾 transport operators through the territory of 🇪🇺 pic.twitter.com/M7k2XAxP0S

— Marialvw (@arktinentuuli) April 8, 2022
end