Russia Believes False Flag Will Lead to US Entry
Russia Believes False Flag Will Lead to US Entry
by GoldFixSubstack, via https://www.zerohedge.com/
UNLOCKED: What Russia Thinks Will Happen Next
INTRO: THE WORLD AS RUSSIA SEES IT: On May 16th, Dmitry Trenin addressed the Council for Foreign Defense Policy. In that speech were interesting comments on how Russians view the war with Ukraine as it relates to the United States. Here is our analysis on what the implications are, Russia's true goals seem to be, and their effects on money.


–


Five Main Points
Takeaways on what Russia believes, or wants us to think it believes about the Ukraine War, and their policy changes as it is affecting global trade.

Ukraine War To Spread East: The War in Ukraine will extend beyond the borders of Ukraine proper. This proxy war with NATO can balloon into a real one between Russia and the US in 3 years or less.
Russian Supply Chains Reconstructed: Russia prepared for this war. They nationalized Russian-held foreign assets, effected import substitutions, and reworked strategic industry operations including eliminating foreign managerial influence.
China vs The US Militarily is Coming: They believe the Ukrainian war will eventually include China facing off with the US militarily.
Gold/Commodity Backed Alternative to USD: One major goal is to completely redo the balance of trade power with a viable alternative to the USD Swift system. They are also aware of what is at stake.
Mercantilism is Both Cause and Effect of The Above: The current shredding of international cooperation will continue to manifest as mercantilist policies are enacted to protect respective countries' economies and borders.

Ukraine Implications Felt for Years
What is evolving between America and Russia (through NATO) and between America and China Geo-politically will change the balance of the world and many structures which have been in place since the end of World War 2.These changes will occur over the next three years; some slowly, others all at once, none reversible for decades. Their effects will be felt globally.
–
Taken together from a high up view this realignment of global power looks simply like a mercantilist pushback. But mercantilism is economic warfare in some ways via protectionism, economic colonialism, and frequent embargoes. It can and does lead to military escalation sometimes as well.
–
read more.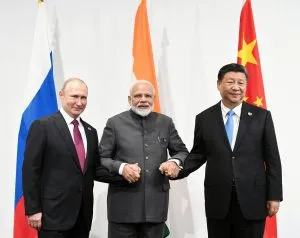 end