Pfizer Jab In Young People Only 20% Effective After 60 Days, 0% After 5 Months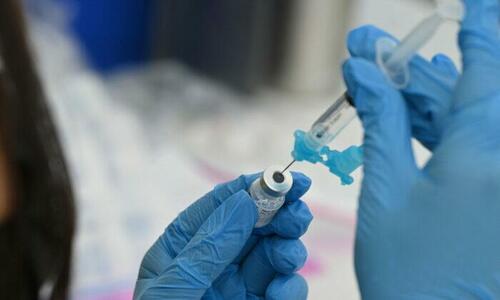 Pfizer Jab In Young People Only 20% Effective After 60 Days, 0% After 5 Months
by Zachary Stieber The Epoch Times, via https://www.zerohedge.com/
The Pfizer COVID-19 vaccine turned negatively effective after five months, according to a new study.
–
Researchers with the U.S. Centers for Disease Control and Prevention (CDC) analyzed test results from sites across the United States and determined that the vaccine was 60 percent effective two to four weeks after 12- to 15-year-olds got the second of the two-dose primary regimen.
–
But the effectiveness, measured against symptomatic illness, quickly plummeted, hitting 20 percent around month two and zero around month five. After that, recipients in the age group were more likely to be infected by COVID-19.
–
Vaccine effectiveness "was no longer significantly different from 0 during month 3 after the second dose," the researchers wrote in the study, which was published by the Journal of the American Medical Association.


–




Pfizer, its partner BioNTech, and the CDC didn't respond to requests for comment. The analyzed tests were performed between Dec. 26, 2021, and Feb. 21, 2022. Some 47,700 tests among 12- to 15-year-olds were included, with about half being unvaccinated. The testing data was on the Increasing Community Access to Testing, a program funded by the U.S. Department of Health and Human Services that contracts with pharmacy chains to perform drive-through testing. The testing data was supplemented by information in questionnaires filled out by adults with the adolescents.




–


read more.
end