House Republicans Release Damning Fauci Emails Suggesting Concealed Knowledge Of Lab Leak
🚨BREAKING🚨

We've released never before seen emails showing Dr. Fauci may have concealed information about #COVID19 originating from the Wuhan lab & intentionally downplayed the lab leak theory. @RepJamesComer & @Jim_Jordan want Fauci under oath. Time for answers. 1/2👇 pic.twitter.com/p8aIBJ3nom

— Oversight Committee Republicans (@GOPoversight) January 11, 2022
House Republicans Release Damning Fauci Emails Suggesting Concealed Knowledge Of Lab Leak
by Tyler Durden, https://www.zerohedge.com/
Republicans on the House Oversight Committee have released several emails which suggest Dr. Anthony Fauci may have known that Covid-19 originated from a lab leak, and that it may have been "intentionally genetically manipulated."


–


"We write to request a transcribed interview of Dr. Anthony Fauci, Director, U.S. National Institute of Allergy and Infectious Diseases (NIAID). Excerpts of emails we are making public today (see enclosed Appendix I) reveal that Dr. Fauci was warned of two things: (1) the potential that COVID-19 leaked from the Wuhan Institute Virology (WIV) and (2) the possibility that the virus was intentionally genetically manipulated. It is imperative we investigate if this information was conveyed to the rest of the government and whether this information would have changed the U.S. response to the pandemic," reads the letter from Reps. James Comer and Jim Jordan to HHS Secretary Xavier Becerra.


–


read more.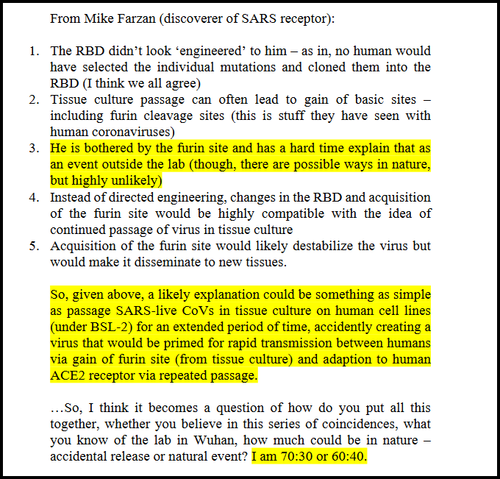 .@RandPaul just ENDED Fauci on LIVE TV

Fauci has no idea what to do with himself other than tremble in fear and whine about Rand Paul's "Fire Fauci" campaign

This is the GREATEST thing you'll WATCH today. LOL! pic.twitter.com/zhWHmrKAwb

— Benny (@bennyjohnson) January 11, 2022
end