US Air Force Plane Makes Unannounced Landing In Taiwan, Outraging Beijing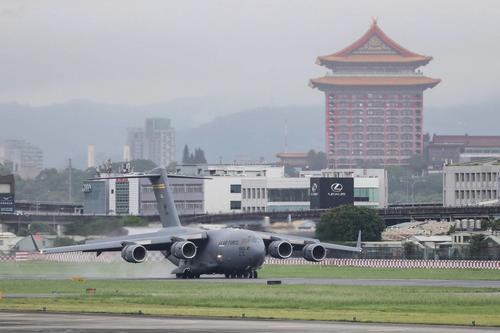 The USA-Pentagram is pretty desperate to ignite their Satanic WW3 plan. The China (& Russia, & US Deep State) will "Kill the Dollar" first before initiating any conflict. Will there be nuclear war in Asia? I don't think so. Skirmishes in the sea Yes! Like for eg: the sinking of US aircraft carrier. Nuclear war between China, USA & Japan – I don't think so. However, my assessment is that nuclear war is planned for Middle East and India-Pakistan (possibly China/India border region also).
–
The context is that they are setting the stage for the Satanic "Alien Invasion" HOAX, arrival of fallen angels PsyOp. And also the revealing of the Man of Sin "Peacemaker".
–
US Air Force Plane Makes Unannounced Landing In Taiwan, Outraging Beijing
by Tyler Durden, https://www.zerohedge.com/


On Thursday a United States Air Force plane briefly touched down an Taipei's international airport, enraging China over what it perceives as another severe violation of the 'One China' policy, also coming a month after a group of US Senators visited Taiwan in a large military cargo plane.




–


The US initially didn't explain why the short stop happened, which was described in local media reports as "unannounced". It prompted a statement out of Beijing saying "Any foreign military planes landing in Taiwan need China's approval," according to Bloomberg citing a defense ministry official statement. 


–




The Chinese statement reiterated prior warnings that the United States must "not play with fire" and to "immediately stop its risky and provocative actions." The defense ministry statement also vowed to destroy any "attempts" toward "Taiwan "independence". 




–


read more.
China's Defense Ministry issued a strong statement on Thursday after a U.S. Air Force plane left Okinawa and delivered "diplomatic mail" to Taipei. https://t.co/e5Rx8GwtLr

— Newsweek (@Newsweek) July 15, 2021
end