Fed Alert: Overnight Reverse Repo Usage Soars Above Covid Crisis Highs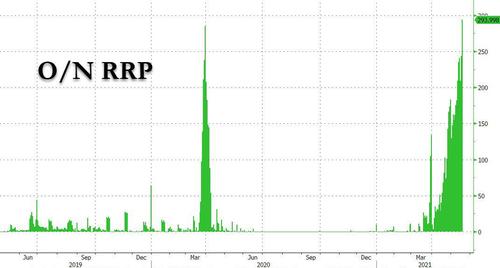 Fed Alert: Overnight Reverse Repo Usage Soars Above Covid Crisis Highs
by Tyler Durden, https://www.zerohedge.com/


In today's FOMC Minutes there was a brief section that received little focus amid the broader analysis of the Fed's tapering, inflation language, yet which could be far more important in coming weeks in light of the violent move higher in overnight reverse repo usage. This is what the Fed said in its discussion of money market rates and the Fed's balance sheet:


–
Reserve balances increased further this intermeeting period to a record level of $3.9 trillion. The effective federal funds rate was steady at 7 basis points. However, amid ongoing strong demand for safe short-term investments and reduced Treasury bill supply, the Secured Overnight Financing Rate (SOFR) stood at 1 basis point throughout the period. The overnight reverse repurchase agreement (ON RRP) facility continued to effectively support policy implementation, and take-up peaked at more than $100 billion. A modest amount of trading in overnight repurchase agreement (repo) markets occurred at negative rates, although this development appeared to largely reflect technical factors. The SOMA manager noted that downward pressure on overnight rates in coming months could result in conditions that warrant consideration of a modest adjustment to administered rates and could ultimately lead to a greater share of Federal Reserve balance sheet expansion being channeled into ON RRP and other Federal Reserve liabilities. Although few survey respondents expected an adjustment to administered rates at the current meeting, more than half expected an adjustment by the end of the June  FOMC meeting."
…
We concluded with the following bottom line: "keep a close eye on the daily reverse repo facility usage: at the rate it is rising it may soon surpass its all time high of $475BN reached at the end of 2015. At that moment the Fed will have no choice but to start the long overdue "tapering talk."
–
And just in case there was confusion, we elaborated that "it also means that every tick higher in RRP usage means we are that much closer to the next, and far more violent, taper tantrum."
–
read more.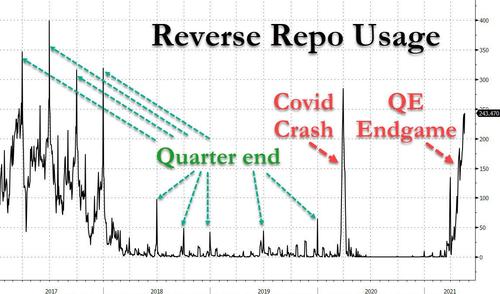 end