Israeli Settlers Attack Palestinians, Steal Land With Impunity. Imagine Outrage & Calls for Sanctions If Any Other State Did It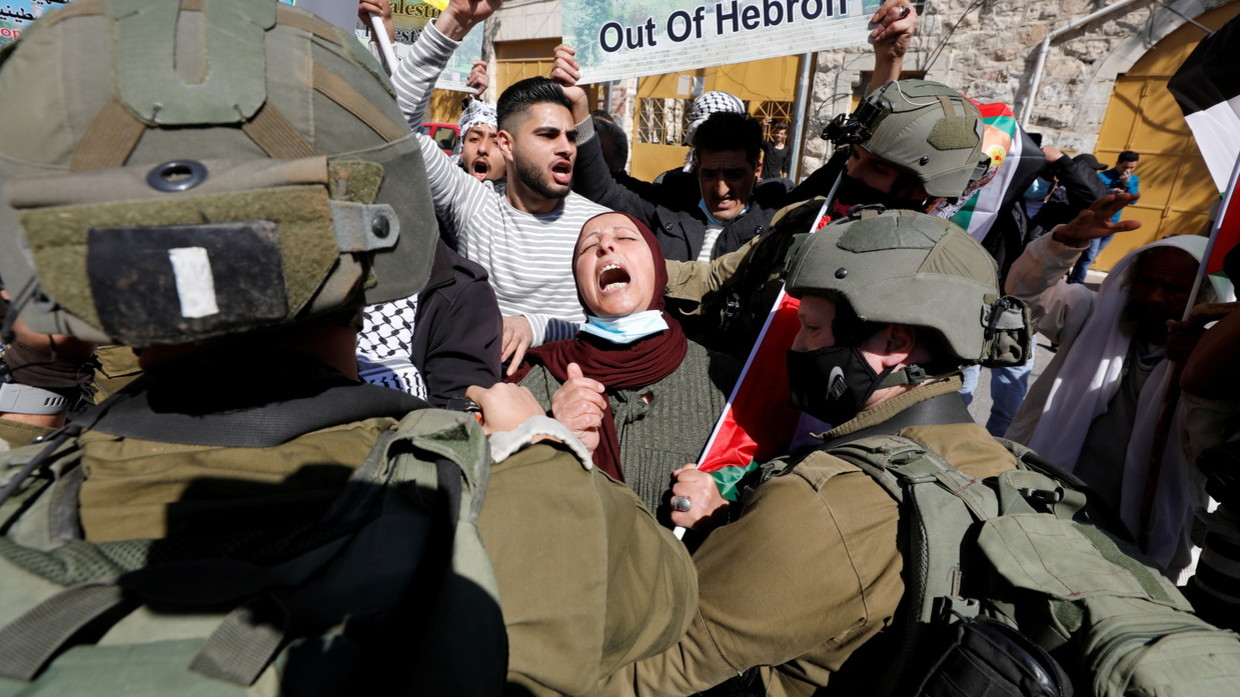 Israeli Settlers Attack Palestinians, Steal Land With Impunity. Imagine Outrage & Calls for Sanctions If Any Other State Did It
by Eva Bartlett, https://www.rt.com/


Every aspect of their existence on occupied Palestinian land is illegal. Still, the violence perpetrated by Israeli settlers against civilians continues, propped up by Israel's legal system and the world's blind eyes.




–




Periodically, we will hear in the news something about the illegal colonies (settlements), but increasingly rarely over the years, and generally without a human face: just numbers and false promises to end the expansion of these colonies choking Palestinians from their land.




–


Recently, UN Special Rapporteurs and experts shed light on the uptick of brutality and land theft by Israeli colonists. In a new UN report, they noted:


–


"In 2020, the United Nations Office for the Coordination of Humanitarian Affairs (OCHA) documented 771 incidents of settler violence causing injury to 133 Palestinians and damaging 9,646 trees and 184 vehicles mostly in the areas of Hebron, Jerusalem, Nablus and Ramallah. Already, during the first three months of 2021, more than 210 settler violent incidents were recorded, with one Palestinian fatality."


–




Stop for a moment and imagine this was a report on violent incidents by Russia, Syria, Venezuela, or any of the nations in NATO's crosshairs. Media would be howling with outrage and faked tears, with demands for heads to roll, or at least for perpetrators to face justice.




–




But this is occupied Palestine, where the Israeli legal system serves continued colonist expansion and terrorism against Palestinians. And, let's be clear, what the colonists do to Palestinians is indeed terrorism.




–


Colonists have burned alive a Palestinian youth, shot and killed Palestinian civilians, have run people over, including children, leaving them to die. They routinely attack farmers trying to work their land or harvest their olives.


–


They hail stones, large rocks, sewage and waste onto Palestinians walking or living below their illegally occupied homes, steal Palestinians' flocks of sheep (or poison them), even uproot and thieve their olive trees.


–


This has been going on for decades, and the so-called international community allows it, in spite of overwhelming documentation of these crimes. Israeli rights group B'Tselem has been reporting on such attacks since 1989. A 2017 B'Tselem article noted:


–


"Thousands of testimonies, videos and reports, as well as many years of close monitoring by B'Tselem and other organizations, reveal that Israeli security forces not only allow settlers to harm Palestinians and their property as a matter of course – they often provide the perpetrators escort and back-up. In some cases, they even join in on the attack.
–
After more than 25 years of this work, there is no escaping the conclusion that the authorities merely make a show of law enforcement in this context and that, with few exceptions, they have no interest in seriously investigating settler violence against Palestinians."
–
read more.
Modern Ashkenazi Khazars (90+% of modern Jewry) are NOT the Jews of the Bible! Ashkenaz is not from the tribe of Shem ie. not semitic! They cannot be the descendents of Jacob/Israel who are from Shem!
–
Genesis 10:1-3 (New King James Version)
Nations Descended from Noah
1 Now this is the genealogy of the sons of Noah: Shem, Ham, and Japheth. And sons were born to them after the flood. 2 The sons of Japheth were Gomer, Magog, Madai, Javan, Tubal, Meshech, and Tiras. 3 The sons of Gomer were Ashkenaz, Riphath,[a] and Togarmah.

We are trained to not see Palestinians as humans – former IDF soldier!
Sir Gerald Kaufmann (UK Jewish MP):
"My grandmother was ill in bed when the Nazis came to her home town. A German soldier shot her dead in her bed. "My grandmother did not die to provide cover for Israeli soldiers murdering Palestinian grandmothers in Gaza. "
–
"The present Israeli government ruthlessly and cynically exploits the continuing guilt among gentiles over the slaughter of Jews in the Holocaust as justification for their murder of Palestinians."
–

He said the claim that many of the Palestinian victims were militants

"was the reply of the Nazi" and added: "I suppose the Jews fighting for their lives in the Warsaw ghetto could have been dismissed as militants."
'Israel was born out of Jewish Terrorism! …. They are not simply war criminals. They are fools!'
" … it turns out the creation of Israel had not, after all, been a haphazard fight in which the Arabs fled their homes at the directives of their own leaders, but it had been an unprovoked, systematic campaign of ethnic cleansing by the Jewish militia involving massacres, terrorism and the wholesale looting of an entire nation." –

from 4:22 onwards


–
"In 2001, Dr. Ariella Oppenheim, of Hebrew University, a biologist, published the first extensive study of DNA and the origin of the Jews.

Her research found that virtually all the Jews came from Khazar blood. Not only that but Oppenheim discovered that the Palestinians—the very people whom the Jews had been persecuting and ejecting from Israel's land since 1948—had more Israelite blood than did the Jews.

In sum, the vast majority of the Jews were not Jews; some of the Palestinians were. Some of the Palestinians even had a DNA chromosome which established that they were "Cohens"—workers at the ancient Temple and synagogues of the Jews."

– Quote
"Shalom (Ex ShinBet chief) shocked viewers. He called Israeli occupation no different from Nazi occupied Europe." – Quote
end