"The Dam Is Going To Break": We Are In The Early Innings Of A Colossal Migration Into Commodities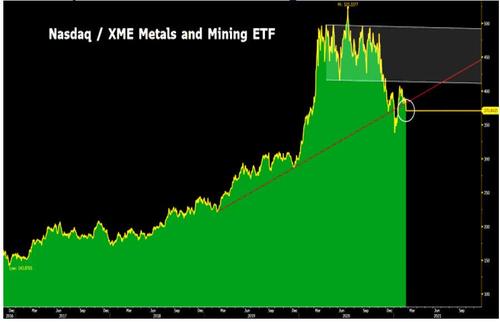 "The Dam Is Going To Break": We Are In The Early Innings Of A Colossal Migration Into Commodities
by Larry McDonald, author of the Bear Traps Report, https://www.zerohedge.com/
The great awakening is upon us, millions of investors are loaded to the gills with deflation bets. Imagine being wedded to big tech stocks since July only to watch commodity plays pass you like a Ferrari on Sunset Boulevard. The psychology must be respected and it's showing up in classical technical analysis.


–


We must be cautious, our trade is maturing. The empty meadow has become a fairground with patrons out for a walk in the midday sun. Over the last week, both Goldman Sachs and JP Morgan have implored their sales force to embrace the "commodity super cycle". Just months ago they were talking down this "un-investable" sector. We must buy every dip we see, especially coming from commodity producing countries like ECH Chile (copper) and EWZ Brazil (oil, agriculture and iron ore).


–


Bottom line, we are overbought but still the early innings of this colossal migration into commodities.  The dam is going to break, there is still far too much capital in big tech. If the rate move is too aggressive we crash.
–
The Nasdaq has 50% downside from here, rebalance the portfolio before the market forces you to. Think 2020-2030, NOT 2010-2020. Remember: it is normal to be overbought in bull markets, and to stay that way much of the time.


–




In a bear market you might get slightly overbought for a few days. But when markets become so overbought for this long means we are in a new bull market. Buy the commodity dip. There is a classic line from our global bestseller – "A Colossal Failure of Common Sense." The late Larry McCarthy loved the fierce impact of market psychology on both bull and bear markets. He said;

"just when you think it cannot possibly get any better it always does. And just when you think it cannot get any worse it always does."




–


read more.
end