Two US Carriers Hold Exercises In South China Sea As Beijing Blasts 'Blow To Peace & Stability'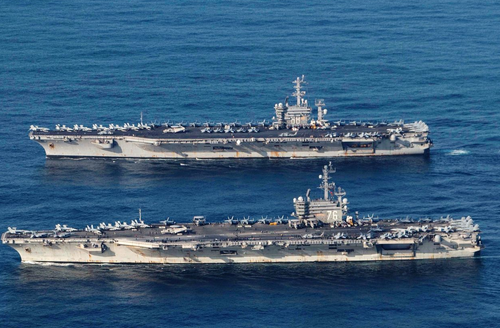 In an all out war, who wins? Definitely USA! Despite the advancement of the Chinese PLA, they are still no match for America's military might. The most likely scenario for China is:
–
1. Kill the Dollar first. China cannot compete with America when the Federal Reserve can create trillions of dollars to build hundreds of aircraft carriers, stealth bombers, …. , out of thin air.
2. Wait for the coming false flag attacks to trigger civil war in America: Left/Liberals vs Conservatives, Libertarians …
3. Consider sinking an American aircraft carrier using their DF21 "Carrier Killer".
–
Two US Carriers Hold Exercises In South China Sea As Beijing Blasts 'Blow To Peace & Stability'
by Tyler Durden, https://www.zerohedge.com/
China is condemning what it's deemed a blow to "regional peace and stability" after no less than two US aircraft carrier strike groups have initiated coordinated military exercises and maneuvers in the South China Sea on Tuesday. It comes further after China blasted the latest provocative sail by of the USS John S. McCain destroyer near the China-claimed Paracel Islands last week, as well as repeat incursions of Taiwan air space by PLA bombers and jets.


–


The USS Theodore Roosevelt and the USS Nimitz carriers "conducted a multitude of exercises aimed at increasing interoperability between assets as well as command and control capabilities," a US Navy statement indicated.


–




It marks the first such dual carrier operation in the South China Sea since the last one in July 2020, and represents the most serious posture of defense readiness signaled to Beijing since Biden took office.




–


"Biden is taking a strong stance to oppose China's territorial claims in the disputed waters," underscores Bloomberg in its reporting.


–


Early this month we noted that in a reflection of the new administration's intent to generally shift its foreign policy priorities from the Middle East to South East Asia and China in particular, the USS Nimitz was called "home" and away from its Indian Ocean-Mideast region of responsibility, but not before stopping or "pausing" provocatively in "China's backyard" (as Beijing sees it):


–


read more.
Two-carrier exercises are relatively rare, though they have seen a recent uptick in frequency. As of Tuesday, just nine have taken place in the Indo-Pacific region since 2001 — four since June.https://t.co/B8VNCAxQxC

— Stars and Stripes (@starsandstripes) February 9, 2021
end