Jordan Scrambles to Affirm Its Custodianship of Al-Aqsa Mosque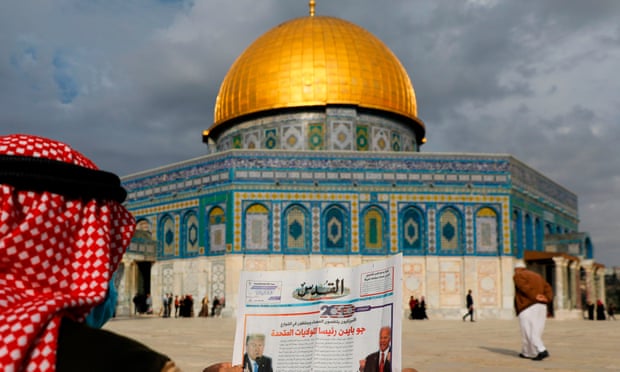 Jordan Scrambles to Affirm Its Custodianship of Al-Aqsa Mosque
by Martin Chulov and Michael Safi in Beirut, https://www.theguardian.com/


Amman fears warming Israel-Saudi relations may threaten its hold on holy Islamic site




–




Jordan is scrambling to affirm its custodianship of the al-Aqsa mosque in Jerusalem after a meeting between Israeli and Saudi leaders raised fears in Amman that the fate of one of Islam's holiest sites could be up for grabs in a normalisation deal between the two countries.




–


Warming relations between Saudi Arabia and Israel, capped by a weekend visit by Benjamin Netanyahu to the Saudi crown prince, Mohammed bin Salman, have alarmed Jordanian leaders already unnerved by Riyadh's regional posturing. They fear al-Aqsa could be in play as the Trump administration tries to secure a regional legacy in its dying weeks.


–




Without apparent prompting, the Jordanian foreign ministry released a statement on Wednesday night challenging "attempts to alter the historical and legal status quo" of the mosque. A spokesman, Daifallah al-Fayez, said: "The kingdom will continue its efforts to protect and care for the mosque, and preserve the rights of all Muslims to it in compliance with the Hashemite custodianship of Jerusalem's Muslim and Christian holy sites."




–




The statement followed a call between the US president-elect, Joe Biden, and Jordan's King Abdullah II, a member of the Hashemite dynasty, which has governed the Jerusalem sites, known as Haram al-Sharif, since 1924, the same year the Saud dynasty was given control of Mecca and Medina.




–




Tutelage of al-Aqsa and the Dome of the Rock has been a key source of legitimacy for Jordan's ruling Hashemite dynasty for nearly a century, pre-dating the creation of Jordan and Israel and prevailing throughout seven tumultuous decades of stalemate, war and eventually peace. In the quarter century since both sides formalised ties, the pact has been central to the deal's stability.




–


Jordanian leaders now fear Donald Trump, his vice-president, Mike Pence, and the secretary of state, Mike Pompeo, along with Netanyahu, may be tempted to change that dynamic by offering the sites to Saudi Arabia as the centrepiece of a normalisation deal. The impact of such a move would dwarf that of the pacts signed in recent weeks between Israel, the UAE and Bahrain.


–


read more.
end