IMF Confirms Massive Stimulus Ahead Globally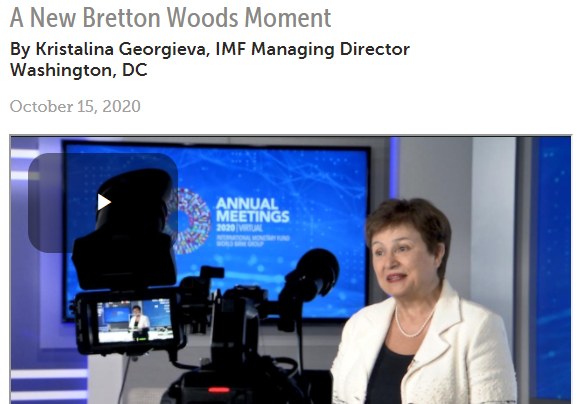 IMF Confirms Massive Stimulus Ahead Globally
by David Brady, https://www.sprottmoney.com/


Although this news is already a week old, it is critical in that it confirms what I and many others have expected: Fiscal and monetary stimulus on steroids is coming, and it'll be GLOBAL.




–




The IMF released a video last week in which its Managing Director, Kristalina Georgieva ('KG'), calls for a "A New Bretton Woods Moment" and a "Global Monetary Renegotiation." You can watch it on the IMF's website here: (top of post)




–


A New Bretton Woods Moment


There's a lot of information in this video, but I am going to focus on the financial aspects. The remarks that follow are my interpretation of what is being said. Watch the video yourself to make up your own mind. In it, KG describes the economic fallout from the pandemic and the measures applied globally. She also states that:




–




"While the global banking system entered the crisis with high capital and liquidity buffers, there is a weak tail of banks in many in emerging markets."




–




This indicates the risk of a global banking crisis led first by banks in developing countries. Global banks are all intertwined these days via debt, swaps, and other derivatives. As we saw in the U.S. and around the world in 2008, the risk is 'the domino effect': a bank in one country, which has loans and derivatives outstanding with multiple other banks globally, collapses and takes down several of those other banks in the process. Then the domino effect spreads just like a virus and the entire banking system risks collapse. How does the IMF plan to address this?




–




"We must take measures to prevent the build-up of financial risks over the medium term."




–




This doesn't sound very promising to me. The lack of any detail whatsoever to prevent such a global banking crisis suggests to me that this could happen. If so, who remains standing after the dust settles? Where do we hold our money? At the central banks? Of course, this assumes we have any money left over. The introduction of central bank digital currencies and individual accounts at the Fed and other central banks around the world also suggests where this is going: centralization of all financial transactions of any size in one location, the central bank.




–


read more.
end