Fauci Wants Everyone to "Sacrifice" By Refusing to Celebrate Thanksgiving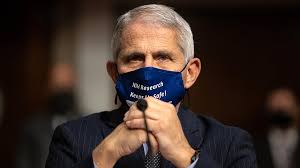 Fauci Wants Everyone to "Sacrifice" By Refusing to Celebrate Thanksgiving
by Mac Slavo, October 19th, 2020, SHTFplan.com


Authoritarian Dr. Anthony Fauci wants us to "sacrifice" and give up our traditions and time with family. He is urging Americans to give up Thanksgiving this year.




–


Tyrant Bill de Blasio, the mayor of New York City has already canceled the iconic and historic Macy's Thanksgiving day parade in.  We are supposed to be giving up this time generally spend socializing with family and being grateful for everything so they can keep the fear going over this coronavirus scamdemic.


–




"Thanksgiving is going to look very different this year," said Fauci. And he's right, but only because people are still bowing to the commands of politicians and going along with tyranny.




–


Fauci said Dr. Deborah Birx has done a good job enslaving the masses too using fear. "She's done an amazing job of traveling to different states trying to get a feel for what's going on," he told CBS News anchor Norah O'Donnell. Fauci said Birx told him: "Household transmission now is assuming a greater element of the transmissibility. Don't assume that because you're in your own home with your own family that you're not going to spread infection."
–


Did anyone catch that? Weren't we supposed to be locked in our homes back in March to prevent the spread of this virus? Now they don't even want us around our own family? This is getting so ridiculous, and it's absolutely astonishing that a good number of humans haven't figured out that this was all a lie from the beginning.




–


"People should be very careful and prudent about social gatherings," Fauci said. "You may have to bite the bullet, and sacrifice social gatherings unless you're pretty certain that the people you're dealing with are not infected or have very recently tested, or they're living a lifestyle in which they don't have any interaction with anybody except you and your family." Fauci and everyone else telling people how they will act and behave can piss off. If you aren't sick of being dictated too, you will make a good slave for the New World Order.


–


To say "wake up" has become cliche. If you haven't figured it out yet, you are probably doomed to a live of servitude in the New World Order where you do one thing for the rest of your life: comply. This isn't about health.  This about manufacturing compliance with tyranny.
end