'Trump's Peace Deal is Akin to Decree of King Cyrus Paving Path For Third Temple' Says Israeli Politician
'Trump's Peace Deal is Akin to Decree of King Cyrus Paving Path For Third Temple' Says Israeli Politician
by  , https://www.breakingisraelnews.com/
…. While people on both the Arab and the Israeli side are still considering the possible implications of President Trump' 'Deal of the Century' revealed on Tuesday, one insightful Israeli declared it to be "the declaration of Cyrus in our time."


–


Politics, Israel, and Torah are all important to Dr. Rafael Minnes. A former member of the Zehut Political Party, he joined with a group of like-minded Israelis to form the New Liberal Party after Zehut's leader, Moshe Feiglin, chose a position in Netanyahu's government rather than run against Likud in the elections. Dr. Minnes served in the IDF Intelligence Corps and the Shin Bet, Israel's internal security service also known as the Shabak. He is a professor of physics as well.


–


Dr. Minnes hears echoes of Persian King Cyrus'' decree that paved the way for the Jews to build the Second Temple almost 2,000 years ago. "The Trump statement is the declaration of Cyrus of our days," he wrote on his Facebook page, raising more than a few eyebrows. This provocative statement from such a well-educated source demanded further investigation.


–


Similarities
"The first thing that is similar between Trump's Deal of the Century and King Cyrus' proclamation is that both of them are non-Jewish political figures who are coming in the name of the God of Israel in order to advance the divine plan incumbent upon the Jewish nation," Dr. Minnes explained to Breaking Israel News. "This may be the reason why Trump's deal is uncomfortable for Israelis and Israeli politicians who are certainly not used to this in their political forum. There are very few Israeli politicians who act or speak this way, certainly not secular politicians and not even the religious politicians."


–


In his Facebook post, Dr. Minnes went into detail.
"I have always called to apply Israeli sovereignty on all the land of Israel, including all Judea and Samari," Dr. Minnes wrote. "And this has always encountered fierce opposition. We can't expect the President of the United States to propose an offer that no Israeli government, in fact, no party in the Knesset, has ever proposed."


–




"In fact, in his actions until now in the last meeting, the president of the United States has been revealed to be a greater advocate of this than the prime minister of Israel. Trump offered to apply sovereignty to all Judah and Samaria, which Bibi did not even consider."




–


Dr. Minnes noted a very important detail of Trump's deal.
"Trump's deal does not require us to recognize Arab sovereignty in Judea and Samaria. Such recognition will only be required if the leaders of the Arabs accept all the conditions of the deal. And with the conditions that Trump established, there's no way they'll accept the terms."


–




"To be honest, I have no doubt that Trump actually opposes a Palestinian State, surely more than Bibi. It is clear to me that the purpose of this deal is to strengthen Israeli sovereignty and to bring to the end the revolting idea of a Palestinian state. On this issue, I trust Trump more than Bibi or Naftali Bennett.




–




Dr. Minnes told Breaking Israel News that just as the declaration of Cyrus was accepted by only a portion of Israel but was a catalyst for the Jews to build the Second Temple, Israel today should take Trump's deal as the ticket that opens up a greater future for Israel. 




–


read more.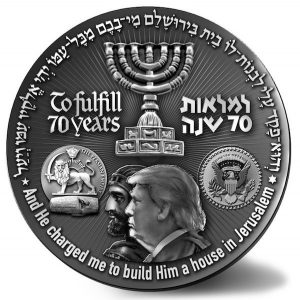 end