Report: Israeli Home Demolitions in East Jerusalem Spiked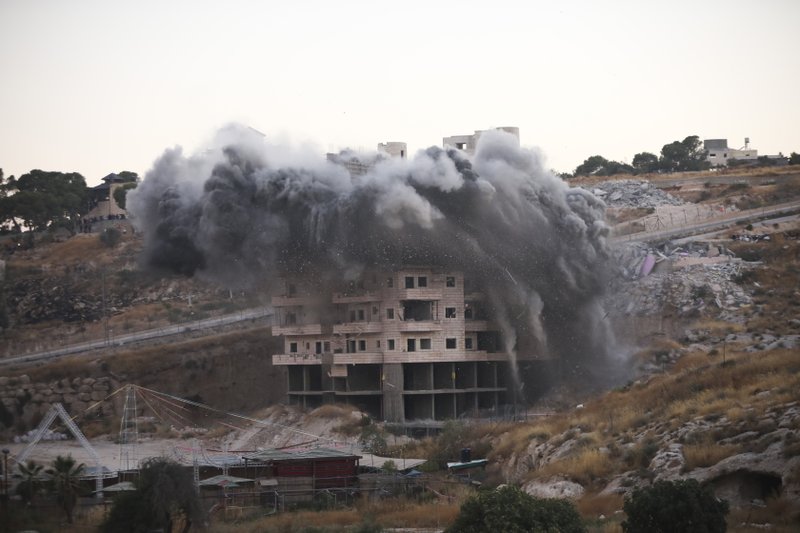 Report: Israeli Home Demolitions in East Jerusalem Spiked
by TIA GOLDENBERG, https://apnews.com/


JERUSALEM (AP) — Israeli authorities demolished homes in Palestinian areas of east Jerusalem at a significantly higher rate in 2019 than the previous year, according to an Israeli advocacy group.




–




In a new report, Ir Amim said 104 housing units were demolished in 2019, compared() to 72 units in 2018. The 44% spike also ends what had been a decline in demolitions between 2016 and 2018.




–




Aviv Tatarsky, the Ir Amim researcher who wrote the report released Wednesday, said the group found that only 7% of housing units advanced by city planners last year were for Palestinian neighborhoods. Palestinians make up about a third of Jerusalem's population.




–




"The situation in east Jerusalem has been very bad last year," he said.




Israel says the houses being demolished were built illegally, and it says the demolitions are court sanctioned. But the Palestinians say they face a severe housing crisis fueled by Israel's reluctance to issue building permits. In a statement, the city of Jerusalem said all of its "enforcement operations" are conducted according to the law.




–




Israel captured east Jerusalem, the West Bank and the Gaza Strip in the 1967 Mideast war, lands the Palestinians want for their future state. Israel annexed east Jerusalem that year in a move not recognized internationally and considers the entire city its capital.




–




Shortly after capturing east Jerusalem, Israel expanded the municipal boundaries to take in large areas of vacant land on which it later constructed Jewish settlements, considered by Israel to be neighborhoods of its capital. At the same time, it sharply limited the expansion of Palestinian neighborhoods, forcing many in the increasingly crowded areas to build illegally.
Modern Ashkenazi Khazars (90+% of modern Jewry) are NOT the Jews of the Bible! Ashkenaz is not from the tribe of Shem ie. not semitic! They cannot be the descendents of Jacob/Israel who are from Shem!
–
Genesis 10:1-3 (New King James Version)
Nations Descended from Noah
1 Now this is the genealogy of the sons of Noah: Shem, Ham, and Japheth. And sons were born to them after the flood. 2 The sons of Japheth were Gomer, Magog, Madai, Javan, Tubal, Meshech, and Tiras. 3 The sons of Gomer were Ashkenaz, Riphath,[a] and Togarmah.

We are trained to not see Palestinians as humans – former IDF soldier!
Sir Gerald Kaufmann (UK Jewish MP):
"My grandmother was ill in bed when the Nazis came to her home town. A German soldier shot her dead in her bed. "My grandmother did not die to provide cover for Israeli soldiers murdering Palestinian grandmothers in Gaza. "
–
"The present Israeli government ruthlessly and cynically exploits the continuing guilt among gentiles over the slaughter of Jews in the Holocaust as justification for their murder of Palestinians."
–

He said the claim that many of the Palestinian victims were militants

"was the reply of the Nazi" and added: "I suppose the Jews fighting for their lives in the Warsaw ghetto could have been dismissed as militants."
'Israel was born out of Jewish Terrorism! …. They are not simply war criminals. They are fools!'
" … it turns out the creation of Israel had not, after all, been a haphazard fight in which the Arabs fled their homes at the directives of their own leaders, but it had been an unprovoked, systematic campaign of ethnic cleansing by the Jewish militia involving massacres, terrorism and the wholesale looting of an entire nation." –

from 4:22 onwards


–
"In 2001, Dr. Ariella Oppenheim, of Hebrew University, a biologist, published the first extensive study of DNA and the origin of the Jews.

Her research found that virtually all the Jews came from Khazar blood. Not only that but Oppenheim discovered that the Palestinians—the very people whom the Jews had been persecuting and ejecting from Israel's land since 1948—had more Israelite blood than did the Jews.

In sum, the vast majority of the Jews were not Jews; some of the Palestinians were. Some of the Palestinians even had a DNA chromosome which established that they were "Cohens"—workers at the ancient Temple and synagogues of the Jews."

– Quote
"Shalom (Ex ShinBet chief) shocked viewers. He called Israeli occupation no different from Nazi occupied Europe." – Quote
end