The Deutsche Bank Death Watch Has Taken A Very Interesting Turn
The Deutsche Bank Death Watch Has Taken A Very Interesting Turn
by The biggest bank in Europe is in the process of imploding, and there are persistent rumors that the final collapse could happen sooner rather than later.  Those that follow my work on a regular basis already know that this is a story that I have been following for years.  Deutsche Bank is rapidly bleeding cash, they have been laying off thousands of workers, and the vultures have been circling as company executives desperately try to implement a turnaround plan.  Unfortunately for Deutsche Bank, it may already be too late.  And if Deutsche Bank goes down, it will be even more catastrophic for the global financial system than the collapse of Lehman Brothers was in 2008.  Germany is the glue that is holding the EU together, and so if the bank that is right at the heart of Germany's financial system collapses, the dominoes will likely start falling very rapidly.


–


There has been a tremendous amount of speculation about Deutsche Bank over the past several days, and so let's start with what we know. We know that Deutsche Bank has been losing money at a pace that is absolutely staggering…:


–


Deutsche Bank reported a net loss that missed market expectations on Wednesday as a major restructuring plan continues to weigh on the German lender. It reported a net loss of 832 million euros ($924 million) for the third quarter of 2019. Analysts were expecting a loss of 778 million euros, according to data from Refinitiv. It had reported a net profit of 229 million euros in the third quarter of 2018, but a loss of 3.15 billion euros in the second quarter of this year.


–




If you add the losses for the second and third quarter of 2019 together, you get a grand total of nearly 4 billion euros. How in the world is it possible to lose that much money in just 6 months? If all they had their employees doing was flushing dollar bills down the toilet for 6 months, it still shouldn't be possible to lose that kind of money. When investors learned of Deutsche Bank's third quarter results last week, shares of the bank went down about 8 percent in a single day. Overall, the stock price has lost over a quarter of its value over the past year.




–


Unless you enjoy financial pain, I have no idea why anyone would want to be holding Deutsche Bank stock at this point.  As I have previously warned, it is eventually going to zero, and the only question remaining is how quickly it will get there. We also know that Deutsche Bank has been laying off thousands of workers all over the world…:


–


read more.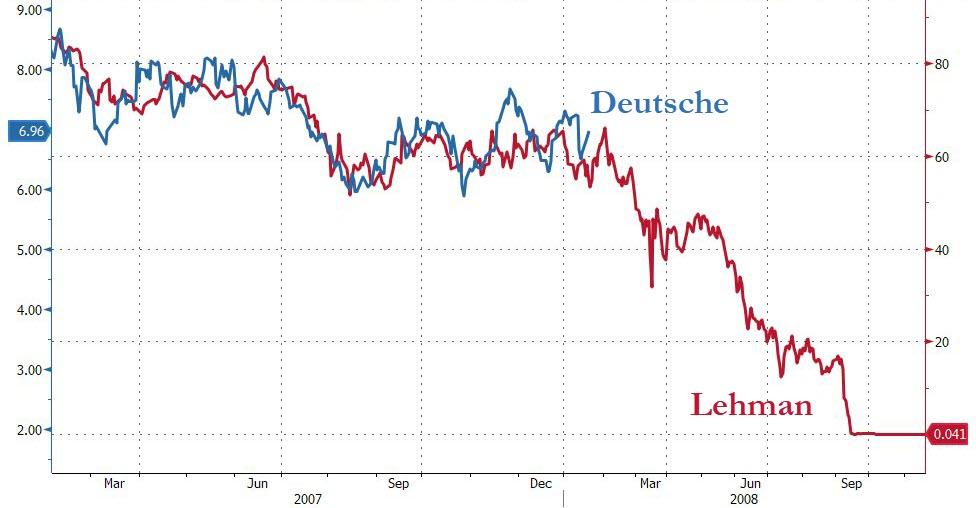 end