EU Bank Bosses Warn Of "Grave Consequences" If ECB Keeps Cutting Rates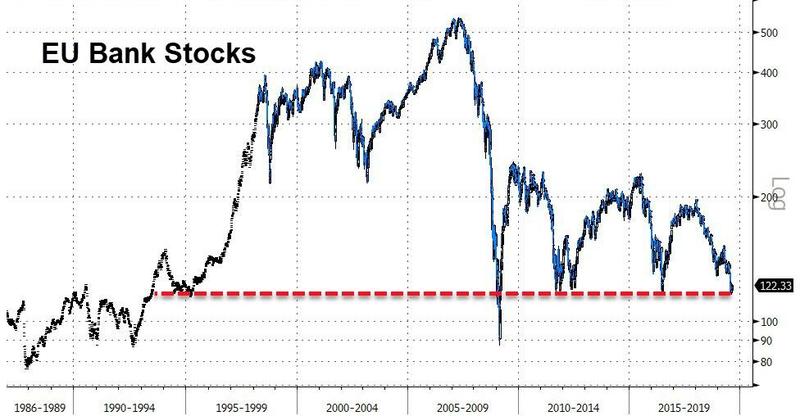 Banks make money by making loans. When interest rates go negative, how will banks survive, since they are paying out interest for every loan they make? Banks will then cut loans, as every loan they make they lose money. The economy runs on financing ie. borrowing. If banks do not lend, the economy will grind to a halt. Who will buy cars, houses … when financing is not available? The economy runs on debt. Sure there are people rich enough to pay cash but the overwhelming majority of the economy runs on debt. Will government be able to undertake large infrastructure projects when there is no debt financing? I don't think so. Just look at the US government. It is a debt machine.
–
When interest rates go negative it means that the lender of last resort ie. central banks will have to step up and provide the financing. It also implies massive losses for them and the end of the fiat currency central banking system.
–
EU Bank Bosses Warn Of "Grave Consequences" If ECB Keeps Cutting Rates
by Tyler Durden, https://www.zerohedge.com/
The ECB's imposition of negative interest rates have created an "absurd situation" in which banks don't want to hold deposits, rages UBS CEO Sergio Ermotti, arguing that this policy is hurting social systems and savings rates.


–


Ermotti is not alone. As European bank bosses cast their eyes at their share prices, they are fighting back, some have said – biting the hand that feeds, in their attack on ECB policies, warning of severe consequences to asset prices and the broader economy.


–


Source: Bloomberg
As Bloomberg reports, Deutsche Bank CEO Christian Sewing warned that more monetary easing by the ECB, as widely expected next week, will have "grave side effects" for a region that has already lived with negative interest rates for half a decade.
–
"In the long run, negative rates ruin the financial system," Sewing said at the event, organized by the Handelsblatt newspaper. Another cut "may make refinancing cheaper for states, but has grave side effects."
–
read more.
end