Iran Says It Will Never Build a Nuclear Weapon — Minister Says Islam Forbids Such a Move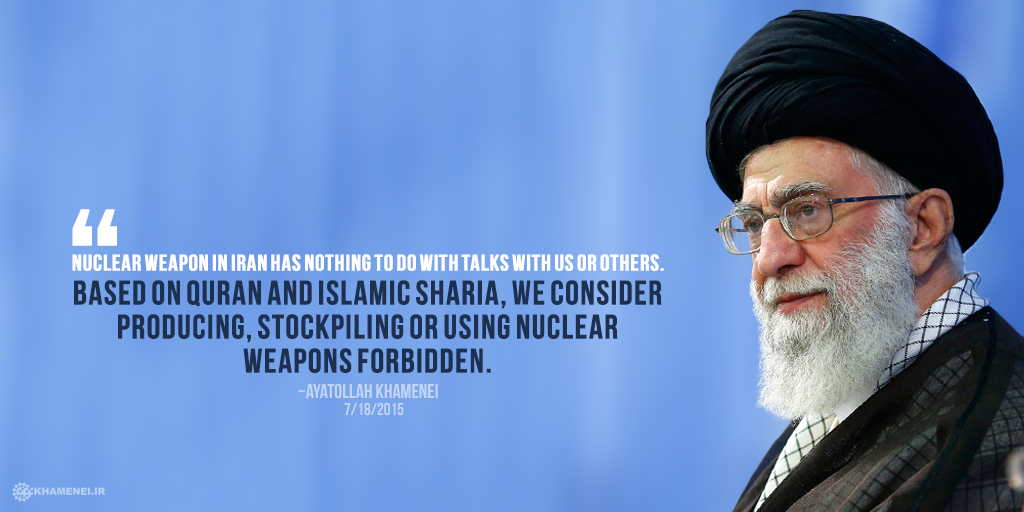 Iran Says It Will Never Build a Nuclear Weapon
by Patrick Wintour, Diplomatic editor, Minister says Islam forbids such a move as country prepares to breach nuclear deal


–


Iran will never pursue a nuclear weapon, its foreign minister has claimed, saying Islam prevented the country from doing so. Iran has previously said it is ideologically opposed to acquiring nuclear weapons and seeks nuclear power only for civilian purposes. But in the current unpredictable climate it is possible Donald Trump could pick up Javad Zarif's remarks as a signal to talk.


–




The White House is pursuing a twin-track strategy of seeking talks while trying to throttle the Iranian economy through sanctions that block trade with Europe and oil sales, and freeze the assets of political and diplomatic leaders.




–




Iran has said it will breach the uranium enrichment limits set out in the 2015 nuclear deal on Thursday, but that does not imply the country is on the path to building a nuclear weapon.




–




Zarif pointed to the past use of nuclear weapons by the US and to recent comments by Trump that he had called off a military strike on Iran because it would have killed 150 people. "You were really worried about 150 people? How many people have you killed with a nuclear weapon? How many generations have you wiped out with these weapons?" Zarif said on Tuesday. "It is us who, because of our religious views, will never pursue a nuclear weapon."




–




The US president again threatened Iran with "obliteration" in a Twitter tirade in which he also accused the country's leaders of killing 2,000 Americans. "The Iranian leadership doesn't understand the words 'nice' or 'compassion', they never have. Sadly, the thing they do understand is strength and power, and the USA is by far the most powerful military force in the world, with $1.5tn invested over the last two years alone," he wrote.




–




"The US has not forgotten Iran's use of IEDs & EFPs (bombs), which killed 2,000 Americans, and wounded many more … Any attack by Iran on anything American will be met with great and overwhelming force. In some areas, overwhelming will mean obliteration."




–


The angry tweets came after Iran said the US's decision to impose sanctions on its supreme leader and other top officials was "idiotic" and had permanently closed the path to diplomacy between Tehran and Washington.


–


Trump imposed fresh sanctions on Monday against the supreme leader, Ayatollah Ali Khamenei, and military chiefs, in an unprecedented step designed to increase pressure on Iran after Tehran's downing of an unmanned American drone. Khamenei is Iran's utmost authority, who has the last say on all state matters. Washington said it would also impose sanctions this week on Zarif, who negotiated the 2015 nuclear deal with the US and other major powers and has spearheaded Iranian diplomacy since.


–




Iran's president, Hassan Rouhani, described the White House as "afflicted by a mental disability" and said the sanctions against Khamenei were "outrageous and idiotic", especially as the 80-year-old cleric has no overseas assets and no plans to ever travel to the US.




–


read more.
end