Largest UK Supermarket Warns "Worst Has Yet To Come" Amid Food Inflation Crisis
'When the chairman of Tesco says something it really matters because it's Britain's biggest supermarket'

Paul Hawkins discusses Tesco Chairman John Allan has saying the 'worst is yet to come' in the cost of living crisis.

📺Freeview 236, Sky 515, Virgin 626
📻DAB+ pic.twitter.com/opava3BwhZ

— GB News (@GBNEWS) February 7, 2022
Largest UK Supermarket Warns "Worst Has Yet To Come" Amid Food Inflation Crisis
by Tyler Durden, https://www.zerohedge.com/
Britain's largest supermarket chain warned "the worst is yet to come" on food inflation as the cost-of-living crisis pulverizes the working poor. John Allan, chairman of Tesco Plc, told the BBC's Sunday Morning Live that low-income households have difficulty choosing between food and heat this winter. Budgets are tight, triggering a 'winter of discontent' if widespread inflation doesn't diminish.


–


"In some ways, the worst is still to come – because although food price inflation in Tesco last quarter was only 1%, we are impacted by rising energy prices. Our suppliers are impacted by rising energy prices. We're doing all we can to offset it … but that's the sort of number we're talking about. Of course, 5%," Tesco's Allan said.


–


He said food and energy inflation would change consumer spending patterns, buying fewer luxury goods and big-ticket items and going out less to eat. Food inflation comes as households experience one of the most significant jumps in annual energy costs in years.
–
"It troubles us, and I'm sure troubles many people, that people may have to struggle to choose between heating their homes and feeding their families," he said. "And that's clearly not a situation that any of us should tolerate."
–
read more.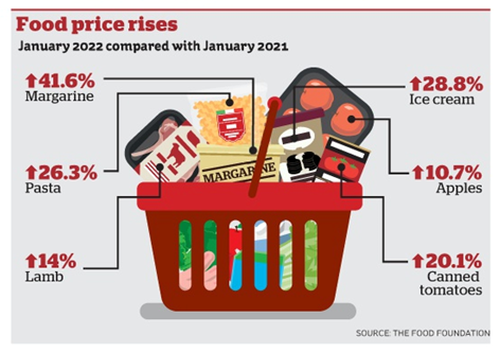 end