Large, Peer-Reviewed Research Study Proves Ivermectin Works Against COVID-19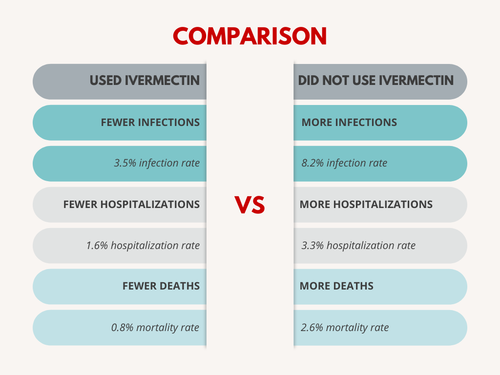 Large, Peer-Reviewed Research Study Proves Ivermectin Works Against COVID-19
by FLCCC Alliance, via https://www.zerohedge.com/
The results are in from the world's largest study of ivermectin for COVID-19.
–
Researchers in Brazil found that regular use of ivermectin as a prophylactic agent was associated with significantly reduced COVID-19 infection, hospitalization and mortality rates.


–


The study was conducted in Itajaí, a port city in the state of Santa Catarina, between July and December 2020. Study authors include FLCCC physicians Dr. Flavio Cadegiani and Dr. Pierre Kory. Lead author Dr. Lucy Kerr was approached by the mayor of Itajaí, after the city began to experience a severe outbreak of COVID.


–




The entire population of Itajaí was invited to participate in the program, which involved a medical visit to compile baseline, personal, demographic, and medical information. In the absence of contraindications, ivermectin was offered as a preventative treatment, to be taken for two consecutive days every 15 days at a dose of 0.2 mg/kg/day.




–




Of the 223,128 citizens of Itajaí considered for the study, a total of 159,561 subjects elected to participate: over 70% opted to take ivermectin, and 23% chose not to.


–
Reduced infection and hospitalization rates
The study found a 44% reduction in COVID-19 infection rate in favor of the group that took ivermectin (3.5% versus 8.2%). In cases where a participating citizen of Itajaí became ill with COVID-19, they were recommended not to use ivermectin or any other medication in early outpatient treatment. Of those who did become infected, two equal-sized, highly matched groups (one that used ivermectin as a prophylaxis and one that did not) were compared. The regular use of preventative ivermectin led to a 68% reduction in COVID-19 mortality (0.8% versus 2.6%), and a 56% reduction in hospitalization rate (1.6% versus 3.3%).


–


read more.
end