Moderna Vaccine Halted In Okinawa After Contamination From "Black Substances"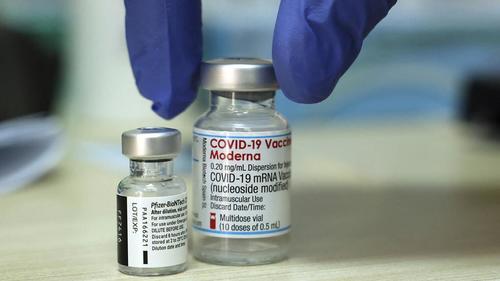 Moderna Vaccine Halted In Okinawa After Contamination From "Black Substances"
by Tyler Durden, https://www.zerohedge.com/
Three days after the Japanese Ministry of Health announced that they were pulling 1.6 million doses of Moderna's Covid-19 vaccine due to contamination in some vials that 'reacts to magnets' and which led to the deaths of at least two men in their 30s who died after receiving their second dose of the Moderna vaccine, two prefectures have halted or limited its use after more contaminated vials were discovered, according to Japan's public broadcaster, NHK, and The Korea Times, citing local reports.


–




The move comes as the Japanese health ministry said it's investigating the August deaths of two men who received doses from tainted Moderna batches.




–


According to NHK, "black substances" were found in syringes and a vial, while pink substances were spotted in a different syringe. "We are suspending the use of Moderna Covid-19 vaccines as foreign substances were spotted," according to a Sunday statement by authorities in Okinawa prefecture, located in southern Japan.


–


Another prefecture, Gunama, has halted affected batches of Moderna, telling AFP "We continue use of Moderna lots that are not affected by the incident."


–


On Thursday, Japan suspended three batches of Moderna doses, removing 1.6 million doses from circulation, after several vaccination centers reported finding foreign matter in them. "It's a substance that reacts to magnets," an official told Nikkei, adding "It could be metal."


–




Moderna, meanwhile, has confirmed receiving "several complaints of particulate matter" in vials distributed in Japan, but that "not safety or efficacy issues" were found related to the reports.




–


read more.
end