US Producer Prices Surge Most On Record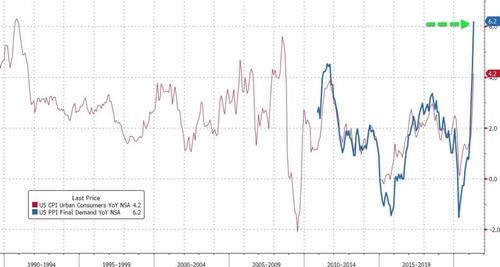 US Producer Prices Surge Most On Record
by Tyler Durden, https://www.zerohedge.com/
After consumer prices exploded higher yesterday – and were immediately rejected by establishment types as 'transitory', despite the market's obvious disagreement – all eyes were on this morning's producer prices for signs of more pressure. Many were fearful of a repeat of last month's debacle  delay (and there were rumors of a softer PPI print leaked earlier today)


–


The rumors were wrong as April Producer Prices exploded 6.2% YoY (well ahead of the 5.8% expected) which was clearly impacted by the base effect of last year's collapse, but even sequentially, the PPI print was shockingly hot, rising 0.6% MoM (double the +0.3% expected). Excluding food and energy, so-called core PPI advanced even more, or 0.7%.


–


read more.
end