Gold Set to Soar as Hyperinflation Looms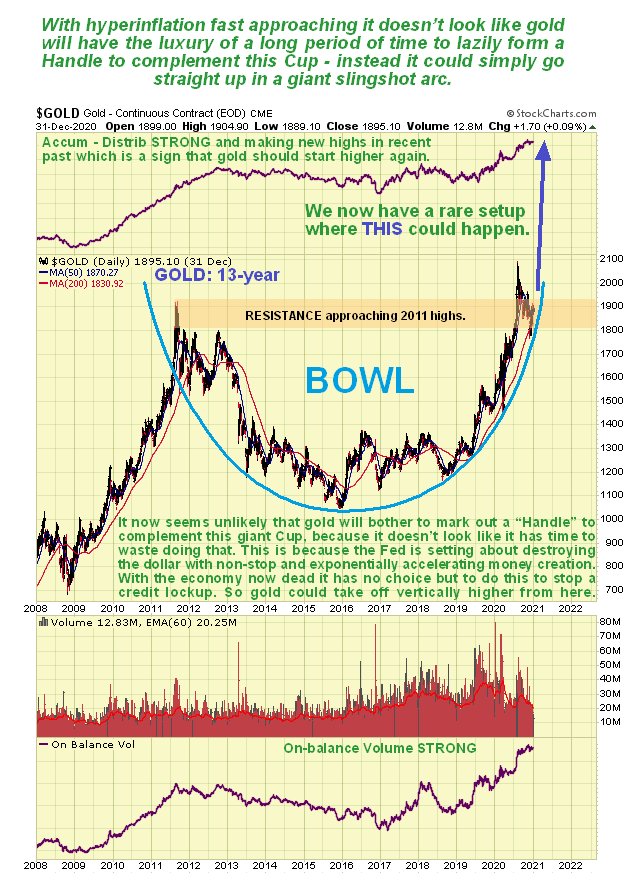 Gold Set to Soar as Hyperinflation Looms
by Clive Maund, http://www.streetwisereports.com/


We now have a very rare setup for gold which is in position to "go ballistic" as the dollar collapses. The dollar is being intentionally destroyed by the Fed, which is creating dollars in vast unprecedented quantities in order to buy up distressed assets on the cheap and in order to pave the way for the new "digital dollar." We are in the last stages of the fiat endgame where money creation goes vertical, quickly leading to it becoming worthless, as happened in Venezuela and Zimbabwe, and of course hyperinflation is a great way to pay off debt, because you can do so with worthless currency.




–




One worry that has been vexing would be investors in the precious metals sector in recent weeks is that gold and silver won't rise much because big banks like JP Morgan will cap it by dumping onto the paper market. The key point to keep in mind is that gold is "real money" and this being so the idea that a currency like the dollar can collapse towards zero and gold won't go up because the banks will be selling it on the paper market is both absurd and ridiculous – what would happen is that an untenable massive gap would develop between the price on the paper market and the price on the physical market, and the paper market would become rapidly irrelevant and obsolete, so we don't have to worry about that. In fact, to the extent that they are actually suppressing the gold price, all they are doing is creating a "pressure cooker" effect that will lead to a massive upside explosion, but you certainly don't want to wait for that to happen before you take positions across the sector.




–




Now let's proceed to look at gold's latest charts and various other related charts.




Starting with the 13-year chart, we see that gold is in the process of breaking out of a gigantic Bowl pattern. This is a very unusual setup that could slingshot it vertically higher soon. Gold has already punched through its 2011 highs last year, but has since reacted back below them which is thought to be a normal reaction prior to renewed advance. A big concern with a pattern like this is that it could stall out for a long time marking out a Handle to complement the Cup before continuing higher, but this doesn't look likely on this occasion because the dollar looks like it is on the verge of collapse with the Fed set to continue attacking it relentlessly.




–


read more.
end