Saudi Heir And Jared Kushner Inch Kingdom Towards Deal with Israel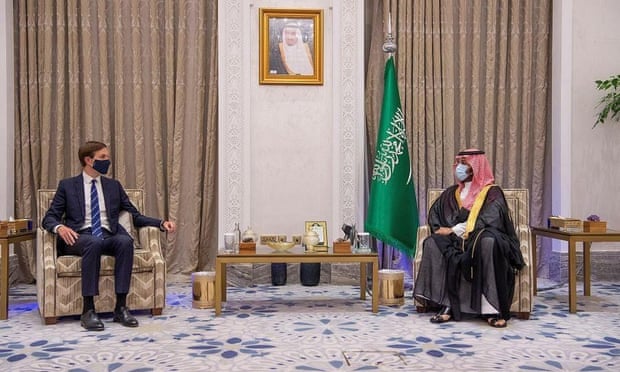 Saudi Heir And Jared Kushner Inch Kingdom Towards Deal with Israel
by Martin Chulov Middle East correspondent, https://www.theguardian.com/international


Saudi Arabia's interventions could result in seismic shift in region's geopolitics




–


As the UAE and Bahrain prepared to sign a deal to normalise diplomatic relations with Israel this summer, Saudi Arabia – the regional heavyweight – was quietly urging them on. For several months before the deals were signed at the White House, the Saudi crown prince, Mohammed bin Salman, had been laying out his rationale for a pact that would overturn regional policies towards a long-term foe.


–




There were state-of-the-art fighter jets on offer, political favours with Washington to be won and bigger, better access to Donald Trump's America, with all the connections a nakedly transactional president saw fit to muster.




–


There was also another inducement: if Saudi Arabia's allies came to terms with Israel first, it would give the Kingdom cover to follow. Such a move would mark a seismic shift in the region's geopolitics, easily eclipsing Israeli accords with Egypt in 1978 and Jordan 16 years later.


–




While a pact between Israel and Saudi Arabia is growing closer, Prince Mohammed is unlikely to give Trump what would be his biggest foreign policy achievement before the US election, according to three sources close to the royal court.




–




Instead, the Kingdom is likely to continue its role of urging regional allies across the line – effectively in its s name. Sudan and Oman are firm favourites to strike a deal before the year is out. But the old guard of the region, Riyadh and Kuwait, are likely to bide their time and hold out for bigger prizes.




–


read more.
end