Israeli Settlers Attack Palestinian Cyclists Who Got Lost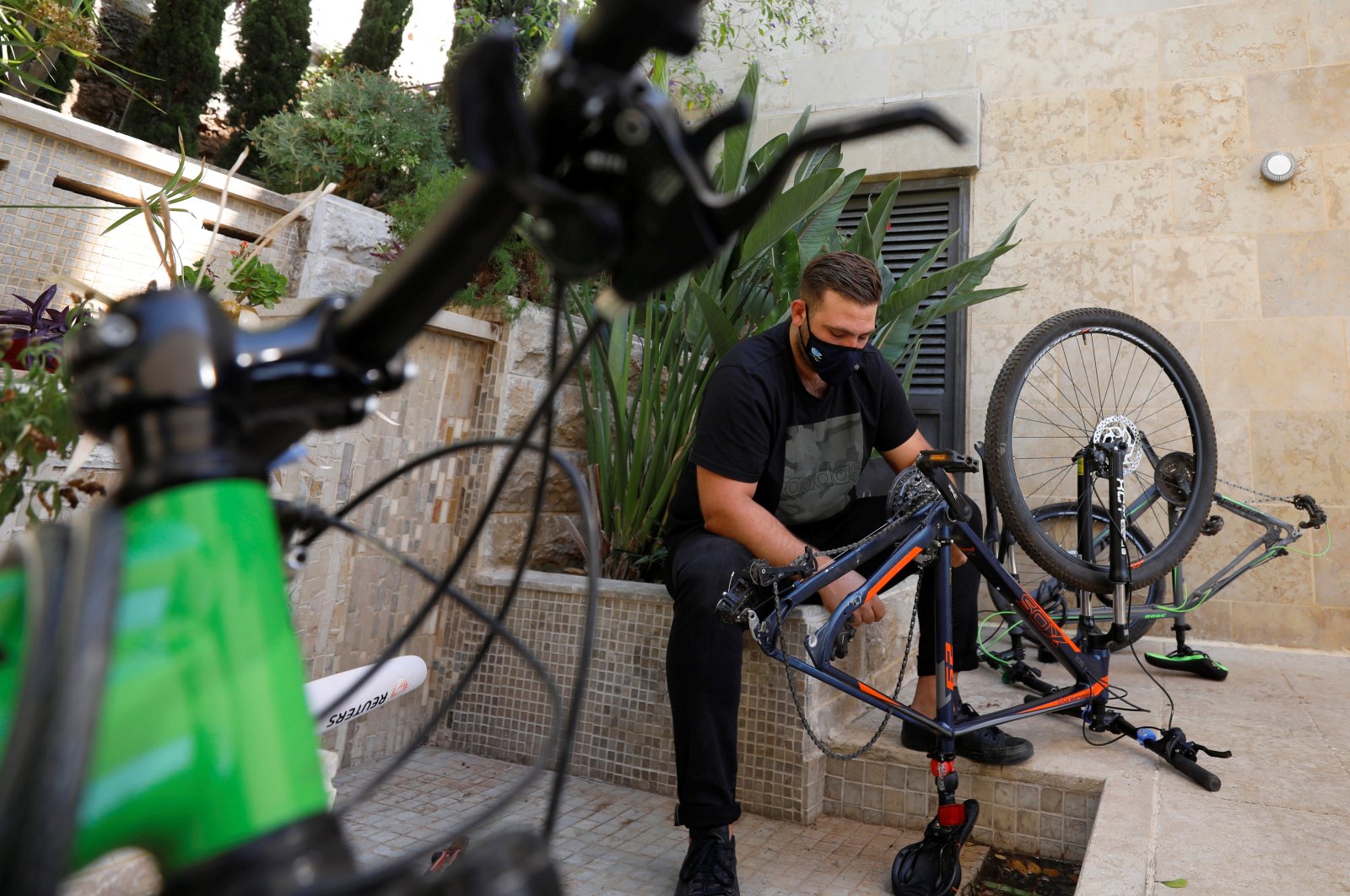 Israeli Settlers Attack Palestinian Cyclists Who Got Lost
by REUTERS, https://www.dailysabah.com/


A group of Palestinian cyclists say they were attacked by Israelis in the occupied West Bank after a popular trail app landed them on a remote path dotted with Jewish settlements.




–




Avid cyclist Amer Kurdi set out on Saturday with his brother and three others on what was supposed to be an 80-kilometer (50-mile) ride, using the cycling, hiking and mountain biking app Komoot to chart a path north from the Palestinian village of Birzeit.




–




The West Bank, occupied by Israel in the Six-Day War in 1967, is scattered with Israeli settlements which its 3 million Palestinians mostly cannot enter, as well as checkpoints and military bases that Israel says it needs for its security.




–




Over an hour into their ride, Kurdi said Komoot led them east toward a rocky path near the Israeli settlement of Shilo. He said a group of Hebrew-speaking men, whom the cyclists later took to be Israeli settlers, approached and asked where they were from.




–




Kurdi, 30, replied that they were from the Palestinian city of Ramallah. Soon after, the men – Kurdi estimates there were five or six – started throwing stones at them, using T-shirts to hide their faces, Kurdi and his brother, Samer, said. "The others managed to run away, but I tripped and fell," Samer, 28, said. "When I got up, a settler was behind me, and he started beating me with a metal rod."




–




Photos the cyclists took after the incident, which they reported to Israel's police, show Samer's legs and arms bruised and bloodied. Israeli police spokesman Micky Rosenfeld said they are investigating. Palestinians complain that navigation apps fail to grasp the West Bank's complexity. Asked for comment, Komoot said it regretted the incident but that its service is not specifically optimized for route planning "through areas of political unrest."




–


read more.
Modern Ashkenazi Khazars (90+% of modern Jewry) are NOT the Jews of the Bible! Ashkenaz is not from the tribe of Shem ie. not semitic! They cannot be the descendents of Jacob/Israel who are from Shem!
–
Genesis 10:1-3 (New King James Version)
Nations Descended from Noah
1 Now this is the genealogy of the sons of Noah: Shem, Ham, and Japheth. And sons were born to them after the flood. 2 The sons of Japheth were Gomer, Magog, Madai, Javan, Tubal, Meshech, and Tiras. 3 The sons of Gomer were Ashkenaz, Riphath,[a] and Togarmah.

We are trained to not see Palestinians as humans – former IDF soldier!
Sir Gerald Kaufmann (UK Jewish MP):
"My grandmother was ill in bed when the Nazis came to her home town. A German soldier shot her dead in her bed. "My grandmother did not die to provide cover for Israeli soldiers murdering Palestinian grandmothers in Gaza. "
–
"The present Israeli government ruthlessly and cynically exploits the continuing guilt among gentiles over the slaughter of Jews in the Holocaust as justification for their murder of Palestinians."
–

He said the claim that many of the Palestinian victims were militants

"was the reply of the Nazi" and added: "I suppose the Jews fighting for their lives in the Warsaw ghetto could have been dismissed as militants."
'Israel was born out of Jewish Terrorism! …. They are not simply war criminals. They are fools!'
" … it turns out the creation of Israel had not, after all, been a haphazard fight in which the Arabs fled their homes at the directives of their own leaders, but it had been an unprovoked, systematic campaign of ethnic cleansing by the Jewish militia involving massacres, terrorism and the wholesale looting of an entire nation." –

from 4:22 onwards


–
"In 2001, Dr. Ariella Oppenheim, of Hebrew University, a biologist, published the first extensive study of DNA and the origin of the Jews.

Her research found that virtually all the Jews came from Khazar blood. Not only that but Oppenheim discovered that the Palestinians—the very people whom the Jews had been persecuting and ejecting from Israel's land since 1948—had more Israelite blood than did the Jews.

In sum, the vast majority of the Jews were not Jews; some of the Palestinians were. Some of the Palestinians even had a DNA chromosome which established that they were "Cohens"—workers at the ancient Temple and synagogues of the Jews."

– Quote
"Shalom (Ex ShinBet chief) shocked viewers. He called Israeli occupation no different from Nazi occupied Europe." – Quote
end