'End of US Global Dominance' Predicted in Wake of COVID-19 as World Order to 'Reinvent Itself'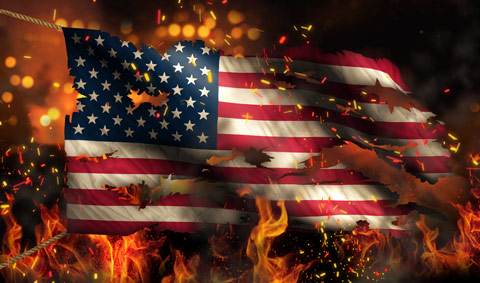 'End of US Global Dominance' Predicted in Wake of COVID-19 as World Order to 'Reinvent Itself'
by https://sputniknews.com/


As the coronavirus pandemic continues to spread across the globe, many are already looking ahead, pondering how or if the health crisis will effectively reshape geopolitics and the era of globalisation.




–


The unfolding global health crisis triggered by the COVID-19 pandemic is profoundly changing the world order built under the auspices of the United States after World War II, claim journalists in an editorial for Le Monde. In a series of investigations, writes the outlet, it has probed the geopolitical faults laid bare by the epidemic and its fallout for economies and populations.


–




As they ponder whether the dynamics at work stem from an acceleration of pre-existing trends or from a radical paradigm shift in the context of the pandemic, they believe a transformation of the geopolitical environment is already underway.




–




While we still do not know just how hazardous and how protracted the health crisis will be, they write, it is already possible, at this stage, to draw certain lessons from the shock inflicted by COVID-19 on the prevailing world order.




–


Dramatic Rise of China


Firstly, claim the authors, the already-fragile international order moulded after the Second World War has shown itself to be no longer adapted to the reality of the 21 century's balance of power, which has witnessed a dramatic rise of China as a key player on the arena.




–




The end of the Cold War, the dissolution of the USSR and China's heightened role gradually unbalanced a world order that hinged on American-Soviet duality, writes the editorial. This bipolar order was succeeded by a multipolar disorder, which over time began to increasingly fail to accommodate what was in reality a multilateral mode of global governance.




–


The delay with which the World Health Organisation alerted the international community to the risk of the COVID-19 pandemic highlighted Beijing's "leverage" over this institution, with the WHO's "deference to China" widely criticised amid mutual accusations hurtled between Washington and Beijing regarding transparency over the origins of the disease.


–


read more.
end