Coronavirus Contains "HIV Insertions", Stoking Fears Over Artificially Created Bioweapon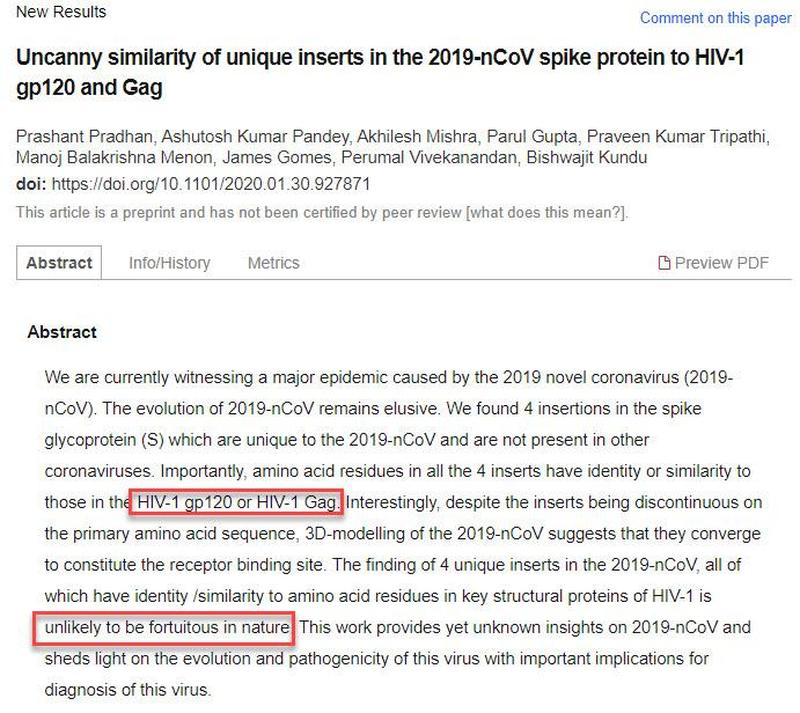 More evidence WuHan virus is a bio-weapon. You can decide whether this was an accidental release from a bio-weapon lab in China or a deliberate attack by the Western Illuminati against the Chinese people. The fact that a conference was conducted over a Coronavirus pandemic starting in China a few months back suggests that it is unlikely to be coincidental. You can decide which Illuminist entity is guilty. See videos bottom of post.
–
Event 201 A Global Pandemic Exercise


Event 201 is a pandemic tabletop exercise hosted by The Johns Hopkins Center for Health Security in partnership with the World Economic Forum and the Bill and Melinda Gates Foundation on October 18, 2019, in New York, NY. The exercise illustrated the pandemic preparedness efforts needed to diminish the large-scale economic and societal consequences of a severe pandemic. Drawing from actual events, Event 201 identifies important policy issues and preparedness challenges that could be solved with sufficient political will and attention. These issues were designed in a narrative to engage and educate the participants and the audience.


–
Coronavirus Contains "HIV Insertions", Stoking Fears Over Artificially Created Bioweapon


by Tyler Durden, https://www.zerohedge.com/


…  a respected epidemiologist who recently caught flack for claiming in a twitter threat that the virus appeared to be much more contagious than initially believed is pointing out irregularities in the virus's genome that suggests it might have been genetically engineered for the purposes of a weapon, and not just any weapon but the deadliest one of all.
–
In "Uncanny similarity of unique inserts in the 2019-nCoV spike protein to HIV-1 gp120 and Gag", Indian researchers are baffled by segments of the virus's RNA that have no relation to other coronaviruses like SARS, and instead appear to be closer to HIV. The virus even responds to treatment by HIV medications.
–
For those pressed for time, here are the key findings from the paper, which first focuses on the unique nature of 2019-nCoV, and then observe four amino acid sequences in the Wuhan Coronavirus which are homologous to amino acid sequences in HIV1:
…
Why do the authors think the virus may be man-made? Because when looking at the above insertions which are not present in any of the closest coronavirus families, "it is quite unlikely for a virus to have acquired such unique insertions naturally in a short duration of time." Instead, they can be found in cell identification and membrane binding proteins located in the HIV genome.


–


read more.
16. UPDATE ON 🦠 GENOME 🧬: a very intriguing new paper investigating the aforementioned mystery middle segment w/ "S" spike protein: likely origin from HIV. "Uncanny similarity of unique inserts in the 2019-nCoV spike protein to HIV-1 gp120 and Gag" from https://t.co/QAX3usr7vw pic.twitter.com/WeVA948xin

— Dr. Eric Feigl-Ding (@DrEricDing) January 31, 2020
17. …WHOA- the authors said the finding was "Unexpectedly" related to genes from HIV virus. Notably there were 4 gene insertions (see figure in above post #16). And so, which HIV gene proteins were found in the new #coronarvirus? Gag protein and Gp120- key HIV proteins… pic.twitter.com/epN66WcObj

— Dr. Eric Feigl-Ding (@DrEricDing) January 31, 2020
end