Fed Braces For Year End Repo Turmoil: Announces $55 Billion In 28, 42-Day Repos To Flood System With Cash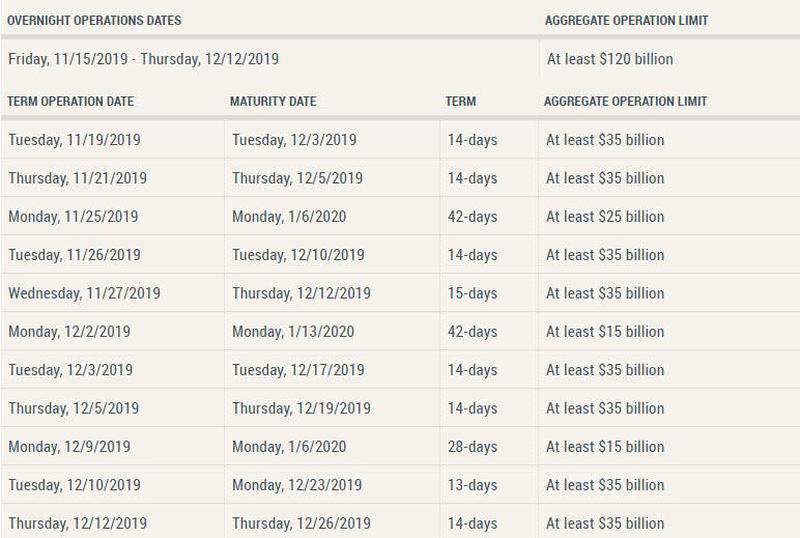 Fed Braces For Year End Repo Turmoil: Announces $55 Billion In 28, 42-Day Repos To Flood System With Cash
by Tyler Durden, https://www.zerohedge.com/
Just moments after we reported that according to Bank of America, the US financial system's reliance on repos could "short-circuit the market's ability to accurately price the supply and demand for leverage as asset prices rise", and implicitly, facilitate the next financial crisis because  "the Fed has entered unchartered territory of monetary policy that may stretch beyond its dual mandate", the Fed confirmed just how reliant both it, and the entire US financial system is on the repo market, when it released its latest term repo schedule, one which for the first time included 28 and 42-day repos which would mature into the new, 2020 year, yet which amount to just a total of $55 billion collectively, an amount which we fear will be far too little to meet year-end liquidity demands, and represents just the first shot in the Fed's scramble to flood the system with year-end liquidity. Meanwhile, the NY Fed is maintaining its $120BN in overnight repos indefinitely. This is what the Fed released today at 3pm:


–




The Open Market Trading Desk (the Desk) at the Federal Reserve Bank of New York has released the schedule of repurchase agreement (repo) operations for the monthly period from November 15, 2019 through December 12, 2019.  In accordance with the most recent FOMC directive, the Desk will continue to offer at least $35 billion in two-week term repo operations twice per week and at least $120 billion in daily overnight repo operations.


–
The Desk will also offer three additional term repo operations during this calendar period with longer maturities that extend past the end of 2019.  These additional operations are intended to help offset the reserve effects of sharp increases in non-reserve liabilities later this year and ensure that the supply of reserves remains ample during the period through year end. They are also intended to mitigate the risk of money market pressures that could adversely affect policy implementation. The Desk will adjust the timing and amounts of repo operations as necessary to maintain an ample supply of reserve balances over time and based on money market conditions, consistent with the directive from the FOMC.


–


The calendar of specific term repos is below: (top of post)


–


read more.
end