China Threatens US Currency Intervention Would Lead To "Market Turmoil" And "Unprecedented Political Fallout"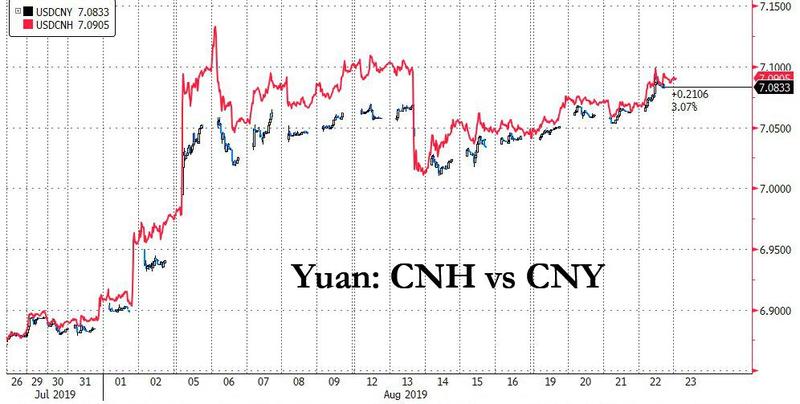 China Threatens US Currency Intervention Would Lead To "Market Turmoil" And "Unprecedented Political Fallout"
by Tyler Durden, https://www.zerohedge.com/
When, for the first time in 11 years, Jerome Powell cut the Fed Funds rate by 25bps on July 31, something unexpected happened: the dollar spiked (in fact, the trade weighted dollar soared to a record high). And not only did the dollar spike as a result of a market that screamed to Powell "long overdue policy error", coupled with a growing dollar liquidity shortage which according to BofA and JPM will force the Fed to launch QE before long, but it was hit by a double whammy when it fell (strengthened?) even further against the yuan just a few days later after Trump launched trade war. In fact, the yuan is now the lowest it has been against the dollar in 11 years. Worse, while the yuan dropped against its basket of reference currencies, the decline was far steeper against the greenback, suggesting that this was a premeditated, political move. That rapid devaluation prompted many banks (such as Bank of America, Standard Chartered and others) to speculate that it is only a matter of time before the US directly intervenes in the market to devalue the dollar against specific pairs (selling dollars, buying the reference currency), and especially against the Yuan.


–


That threat has not been lost on Beijing, and as the FT reports today, top Chinese bankers in London have warned of the "drama" that would follow any US attempt to weaken the dollar by intervening in renminbi markets — a move that would be seen by Beijing as a "political act." A hostile "political act."


–




Yet such an act looks increasingly likely after Trump has repeatedly taken aim at China (and Europe) both on Twitter and elsewhere for "playing currency games" as the trade war has morphed into a currency war, if not a full-blown one yet.




–




The first shot in that particular currency war took place earlier this month when the US Treasury officially branded China a currency manipulator after the Chinese central bank allowed the renminbi to fall below Rmb7 to the dollar, a key threshold last breached in 2008, leading to further escalation in trade tensions. On Thursday the renminbi was trading at a fresh low of 7.09, with the both the offshore and onshore versions having once again converged.




–


read more.
end