JPMorgan: The FedRes Will Need To Restart QE Soon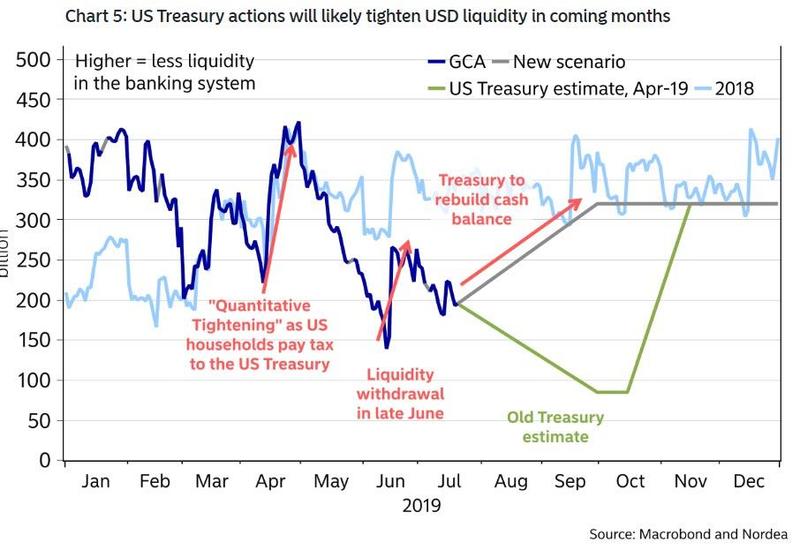 JPMorgan: The FedRes Will Need To Restart QE Soon
by Tyler Durden, https://www.zerohedge.com/
Earlier this week we received an unexpected email from a researcher at the Federal Reserve with an "urgent request" to provide the US central bank with details on an analysis we presented on Tuesday, according to which the Fed was about to be hit with a major liquidity drain as the Treasury, unshackled from the limits of debt ceiling constraints, set off to replenish its cash balance from roughly $130 billion to $350 billion over the next two months, as disclosed recently by the US Treasury.


–


The reason why the Fed reached out is because as we explained in "Forget China, The Fed Has A Much Bigger Problem On Its Hands", according to an analysis from Bank of America, the Fed may be forced to launch Quantitative Easing as soon as Q4 to provide the market with the much needed liquidity, or else suffer the consequences of a major liquidity shortage. To wit, in describing the various steps the Fed can engage in, this is what the BofA strategist said:


–




Outright QE: after OMO dealer capacity is exhausted the Fed may need to start permanently expanding its balance sheet. The Fed would likely describe this as offsetting "bank reserve demand and growth in other non-reserve liabilities".

Regardless, it would represent the Fed permanently buying USTs outright to maintain control of funding markets well above the ZLB.


–
Apparently this is something that the Fed, which until recently was engaging in additional liquidity draining via QT, was unaware about, and since a return of QE – something that Trump has yet to demand – would cause all sorts of political problems and demand lengthy congressional explanations, the BofA analysis was one of the various factors cited for the dramatic rebound in the market starting on Tuesday, which promptly transformed into the strongest 3-day rally of the year.


–


read more.
end