How Iran Will Determine If The US Dollar Remains The World's Reserve Currency
How Iran Will Determine If The US Dollar Remains The World's Reserve Currency
by Tyler Durden, https://www.zerohedge.com/


For almost two centuries, Sterling reigned supreme as the world's reserve currency, propping up the vast British Empire which was the world's superpower during the 19th century and the early 20th. Then, in the span of just a few months, everything changed and the US Dollar took over after a series of dramatic events.




–




For those unfamiliar with this historic transformation, Clarmond's Mustafa Zaidi and Chris Andrew describe the series of events in which Iran and its oil reserves proved to be the final nail in the coffin of sterling and the British Empire. However, what is far more interesting, is their suggestion that the current tensions between Washington and Tehran, and what happens to Iranian gas, could also be the event that results in the end of the dollar's own reserve status.


–
Why? Read on in Clarmond's observation on "Self Deception and Pride."
Wilting in the muggy summer of 1945 in Washington DC, an ailing Lord Keynes messaged London – his mission to procure a $5b grant to avoid a 'financial Dunkirk' had failed.


–




Instead the Americans had offered a $3.5b loan loaded high with conditions. "We are in Shylock's hands" muttered Ernie Bevin, the Labour Foreign Minister. The American demands were put forward by a former cotton king (Will Clayton) a future Chief Justice (Fred Vinson) and crafted by the President of Chase Bank (Winthrop Aldrich). There were three immovable requirements for the loan. First an end to Imperial Preference in trade, secondly the floatation of Sterling within a year, and thirdly Britain signing up to the Bretton Woods system.




–




The American objective was to put American industry and finance at the centre of the world. This meant dismantling the sterling free-trade market and destroying sterling's status as a settlement and reserve currency. During WWII Britain had already traded away to the US its naval bases and its world-leading technology; now its American ally was now gunning for the Empire's trade markets and currency.




–


read more.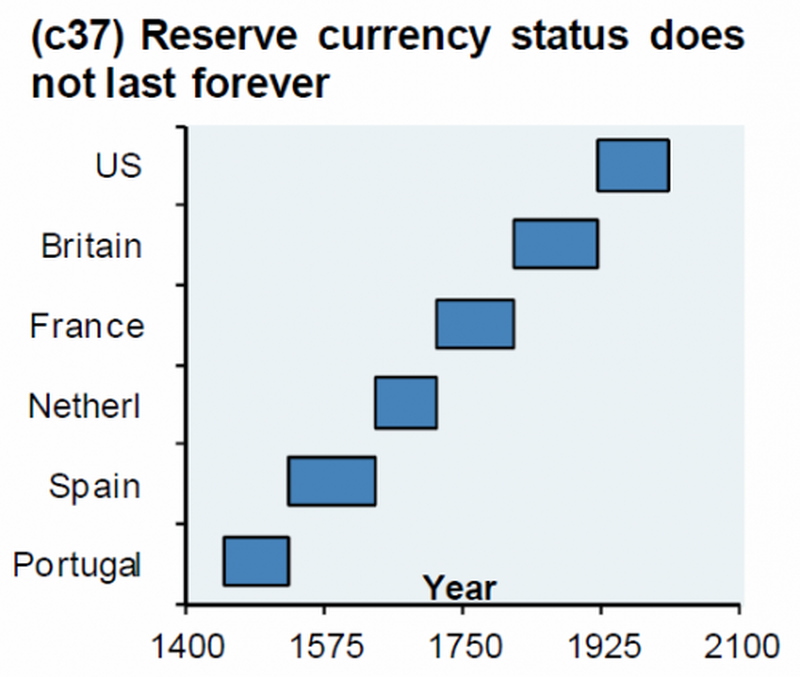 end