Iran Goes for "Maximum Counter-Pressure" to Trigger Quadrillion Dollars Financial Derivatives Collapse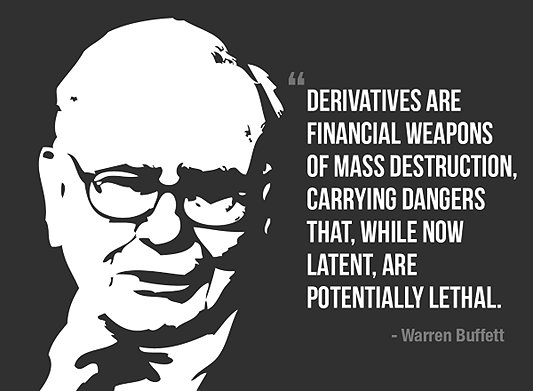 Iran Goes for "Maximum Counter-Pressure" to Trigger Quadrillion Dollars Financial Derivatives Collapse
by Pepe Escobar, June 20, 2019, https://www.strategic-culture.org/


Sooner or later the US "maximum pressure" on Iran would inevitably be met by "maximum counter-pressure". Sparks are ominously bound to fly.




–




For the past few days, intelligence circles across Eurasia had been prodding Tehran to consider a quite straightforward scenario. There would be no need to shut down the Strait of Hormuz if Quds Force commander, General Qasem Soleimani, the ultimate Pentagon bête noire, explained in detail, on global media, that Washington simply does not have the military capacity to keep the Strait open.




–


As I previously reported, shutting down the Strait of Hormuz would destroy the American economy by detonating the $1.2 quadrillion derivatives market; and that would collapse the world banking system, crushing the world's $80 trillion GDP and causing an unprecedented depression.


–


Soleimani should also state bluntly that Iran may in fact shut down the Strait of Hormuz if the nation is prevented from exporting essential two million barrels of oil a day, mostly to Asia. Exports, which before illegal US sanctions and de facto blockade would normally reach 2.5 million barrels a day, now may be down to only 400,000.


–


Soleimani's intervention would align with consistent signs already coming from the IRGC. The Persian Gulf is being described as an imminent "shooting gallery." Brigadier General Hossein Salami stressed that Iran's ballistic missiles are capable of hitting "carriers in the sea" with pinpoint precision. The whole northern border of the Persian Gulf, on Iranian territory, is lined up with anti-ship missiles – as I confirmed with IRGC-related sources.
–
We'll let you know when it's closed
Then, it happened.
Chairman of the Chiefs of Staff of the Iranian Armed Forces, Major General Mohammad Baqeri, went straight to the point; "If the Islamic Republic of Iran were determined to prevent export of oil from the Persian Gulf, that determination would be realized in full and announced in public, in view of the power of the country and its Armed Forces."


–




The facts are stark. Tehran simply won't accept all-out economic war lying down – prevented to export the oil that protects its economic survival. The Strait of Hormuz question has been officially addressed. Now it's time for the derivatives.




–




Presenting detailed derivatives analysis plus military analysis to global media would force the media pack, mostly Western, to go to Warren Buffett to see if it is true. And it is true. Soleimani, according to this scenario, should say as much and recommend that the media go talk to Warren Buffett.




–


read more.
end